Battles brewing in Topeka as lawmakers return to work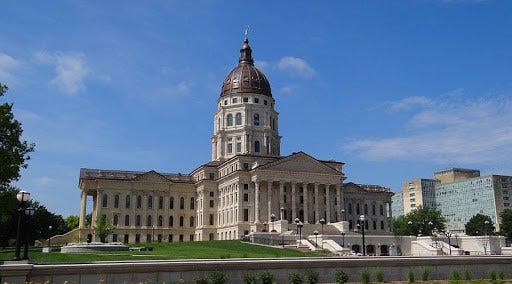 TOPEKA, Kan. – From your bank balance to pain management and what your kids do in school, it's all up for discussion when state lawmakers get back to work Monday after a three week break.
It's called the "Veto Session."  By definition, it's when lawmakers come back to the statehouse to deal with any bills the governor vetoed after they went home on break.
This year they've got a lot on their plate after the governor vetoed the most bills in nearly two decades.
And Kansans want to have their say on what lawmakers do about those vetos.
"The climate crisis," said Lori Lawrence while addressing the South Central Kansas Legislative Delegation on Saturday.
"A tax bill," added Chuck Schmidt.
"Cannabis or marijuana or hemp, or whatever flavor of the day is," said Nick Rennaker who wants lawmakers to legalize all marijuana use.
"Fair voting," prioritized Pat Reinhold with the League of Women Voters.
"Medicaid expansion," came from more than one person.
Those are just some of the topics they want lawmakers working on Monday when the legislature returns to Topeka.
"We are asking that you do not vote to override the governor's veto of these bills," said Reinhold, speaking about the governor's vetoes of bills that would have changed the rules on absentee and early voting in Kansas.
"I come to you with a heightened sense of urgency. We cannot delay this legislation another year," said Amy Reid, a nurse who supports the legalization of medical marijuana.  House members voted that bill out of committee for the first time this year, but House leadership sent it back for more work.  It could see action again during the veto session.
The governor has pulled out her red pen and slashed away at 26 proposals this year covering topics like transgender rights, public school curriculum and funding, voting rights and the state budget.
"Monday and Tuesday are going to be pretty crazy," said Dr. Neal Allen, a political scientist from Wichita State University. "Because Governor Kelly his vetoed a lot of things that are really important to the conservatives in the legislature."
Dr. Allen says to expect Republicans to try to override many of the governor's vetoes. But he adds that it won't be easy as conservatives and moderates argue over the details.
"The problem for the leadership in the state house and state senate is conservatives who think that the particular issues or bills haven't gone far enough," he said.  "On some of them the question is moderates who are worried about drops in school funding or about social issues that don't resonate with their voters."
That fight part of why Allen says expect to see two embattled Kansas Republicans in their seats this next week.
He says the legal issues facing Rep. Mark Samsel, R Wellsville, and Sen. Gene Suellentrop, R Wichita, will be a distraction but Republicans will need their votes.
Samsel was arrested for misdemeanor battery of a student while substitute teaching last week and Suellentrop faces felony charges related to a police chase and DUI arrest last March.
"Even though the last place Samsel and Suellentrop would like to be is where there's a bunch of reporters around asking them questions," Allen said.  "But every vote matters.  People might think, 'Oh, Republicans control everything and so it doesn't matter who you vote for.' And that's not how it is."
This week's fights coming as Kansas Republicans and Democrats are positioning themselves for next year's battle over the governor's office.
"On the social issues, a lot of those things are frankly election positioning," Allen said.
He added that in terms of re-election, Governor Kelly didn't help herself with these vetoes.
"Governor Kelly is prioritizing her policy positions over actually her reelection because she's on (the) opposite side of Kansas voters on a lot of issues," he said.
On top of all that, lawmakers face a time deadline.  They're only scheduled and budgeted to work for another eight days.  In that time, no matter what happens with the social issues they're arguing over, they are legally bound to finish work on the budget issues before they can go home.
You may remember that it was a fight over state finances back in 2015 that led to a record long session.  It dragged into June and cost taxpayers an extra $43 to $45,000 for every day they went past the deadline.