Mariah Carey will never forget crossing paths with Princess Diana: "We were both like cornered animals"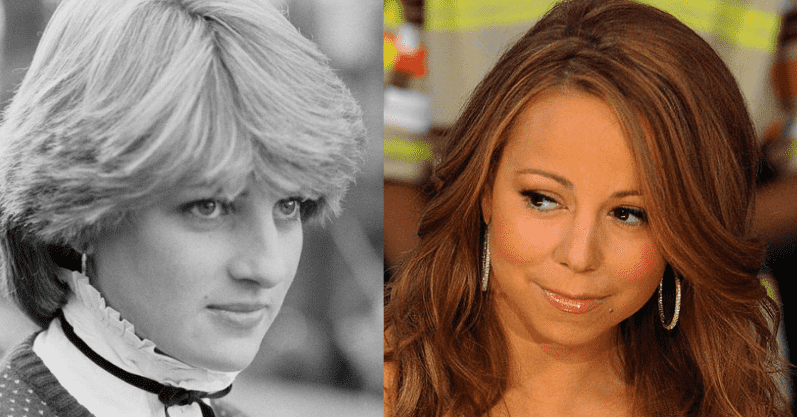 When they locked eyes at a party in 1995, Mariah Carey recognized something about herself in the princess. "She had that look—the dull terror of never being left alone burning behind her eyes," said the singer. The only person who will know what it feels like to be miserably trapped in a caged life is another person going through the very same thing. That's why decades ago, when Mariah Carey crossed paths with Princess Diana, she could instantly feel a connection because of the painful experiences they had in common.
Looking at Princess Diana reminded Carey of the same heartache she saw when she looked in her own mirror. And seeing the princess at a party in 1995 was a moment that stuck with the We Belong Together singer for several years.
"I studied how the press hounded her like hyenas," Carey said in her memoir, The Meaning of Mariah Carey.
"I once had a brief but unforgettable moment with Lady Di when our eyes locked at a Vogue party," recalled the Grammy award-winning singer. "She was in a stunning sapphire-colored gown, neck dripping in the same blue gems. And she had that look—the dull terror of never being left alone burning behind her eyes."
On the surface, it seemed like Carey and Princess Diana came from two completely different worlds from two different corners of the globe. Yet, the queen of pop felt she had something similar to the Princess of Wales.
"We were both like cornered animals in couture," Carey wrote.
"I completely recognized and identified with her," the singer went on to say. "We shared that understanding of how it felt always being surrounded by people, all of whom might now be trying to hurt you, but all of whom are trying to do something. They all want something. I didn't know she would be caught and killed shortly after our encounter."
Both Carey and Princess Diana found themselves thrust into the spotlight from a very young age.
When Carey was a teenager, she and her soon-to-be famous five-octave range were discovered by Sony Music CEO Tommy Mottola. Later, 44-year-old Mottola married 23-year-old Carey in 1993.
"I was a kid in his world, and I just kept making money for the company," Carey wrote in her memoir. "Just kept goin' in and making records and making records and writing songs and feeding the machine. And I was living my dream, but it was also a nightmare."
Miles away from Carey, Princess Diana was living her own life and being hunted down by paparazzi everywhere she went. The People's Princess has often spoken about the pressure she felt as part of the royal family. She too, was very young when she stepped into the role of the Princess of Wales.
While Princess Diana was 19, she married Prince Charles, who is 12 years older than her, on July 29, 1981. They had met on 13 different occasions before tying the knot.
The union between Princess Diana and Prince Charles had all the makings of a fairytale wedding, but Princess Diana seemed to disagree.
"Diana told me much later in one of our private conversations that she had felt like a lamb to the slaughter as she walked up the aisle, which is very sad, but I think she knew that things weren't quite right," said Jennie Bond, whom the princess confided in.
Although they came from vastly different worlds, Princess Diana and Carey both lived tumultuous lives and knew what it was like to be constantly watched and scrutinized.
When Carey now looks back at Princess Diana's life, the singer wishes that the latter lived long enough to see the positive side of social media.
"[On social media] our fans can come to our defense, bring all the receipts, and create a united front so strong than no bland host or commentator or ravenous paparazzi can even begin to compete with their influence," Carey wrote in her memoir. "We are the media. I only wish Princess Di had lived long enough to have Instagram or Twitter. I wish she had lived to see the people become the press."