C-stores, cities want piece of action if Kan. legalizes sports betting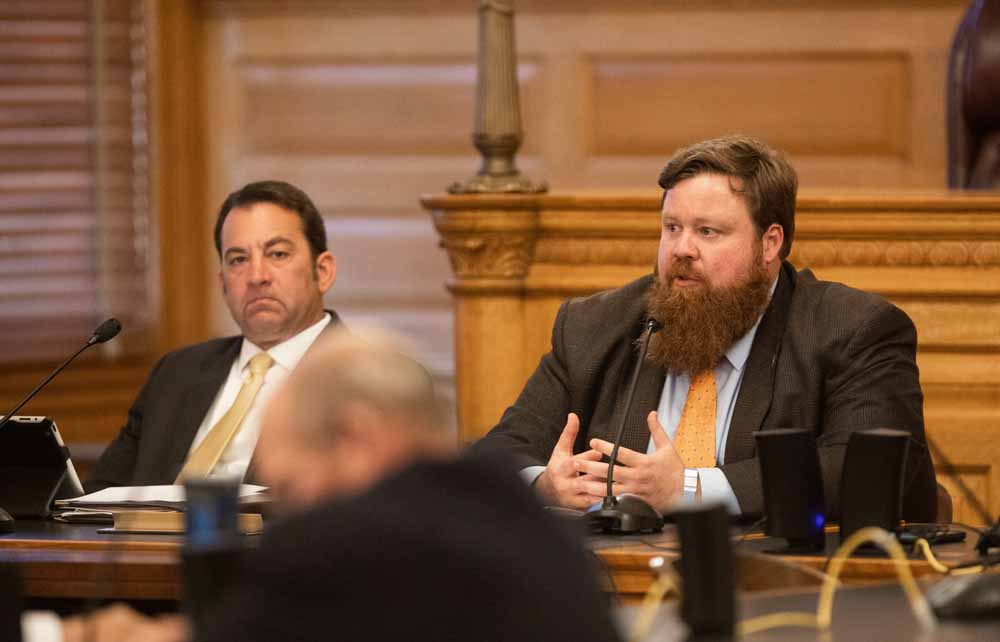 TOPEKA, Kan. — Kansas Lottery retailers, local units of government and addiction counselors expressed concern Thursday about being excluded in a Kansas Senate bill from opportunities to share in revenue from legalizing sports gambling statewide.
A Senate bill years in the making would place operational control of onsite and online sports betting in Kansas with the four state-owned, contractor-managed casinos in Pittsburg, Mulvane, Dodge City and Kansas City, Kansas. The Senate's casino model would differ from the preference of some Kansas House members who want to involve the 1,100 convenience store retailers that sell Kansas Lottery tickets in the new business of gambling on sporting events.
Becky Schwartz, representing a trade association of 250 independent fuel distribution and convenience store retailers in Kansas, told the Senate Federal and State Affairs Committee the organization opposed Senate Bill 84 unless amended to open sports gambling to lottery retailers. She said several large convenience store chains were interested in branching out into sports betting at the retail level.
"Sports wagering hosted by the Kansas Lottery is a natural fit for current lottery retailers," Schwartz said. "They have a financial track record with the Kansas Lottery and have the sufficient resources to support the activities required to conduct sports wagering."
Sen. Jeff Longbine, an Emporia Republican, said involving convenience stores in betting on sports would create an unacceptable financial liability for the state. The proposed Senate bill would place that profit-and-loss burden on shoulders on casinos operating the sports books.
"I think under that model," Longbine said of the convenience-store option, "the taxpayers of the state of Kansas would take the risk. I think that was the concern of the Senate last year. We did not want to put the state at risk and have the state assuming the risk of wins and losses within sports gaming."
Meanwhile, the League of Kansas Municipalities recommended adjustment of the Senate bill to be consistent with existing state gambling law guaranteeing 3% of revenue from sports wagering was shared with local units of government. The municipal government organization otherwise takes no position on legalization of sports betting, said John Goodyear, general counsel to the League of Kansas Municipalities.
"This contribution is made to help local governments to bear the increased local costs associated with having a gaming facility," he said. "These items include like the maintenance of the streets leading up to the gaming facility and increased law enforcement presence around facilities."
Deb Stidham, of the Kansas Association of Addiction Professionals, said the sports wagering bill ought to be modified to enhance spending on work to prevent and treat problem gambling. Under current law, she said, the bulk of revenue sharing from casinos for addiction intervention was directed at people with alcohol or drug issues and eligible for Medicaid. Of about $8 million drawn annually from casinos, Stidham said, less than $900,000 was devoted specifically to gambling addiction.
Legislation to legalize sports betting in Kansas should dedicate at least 2% of revenue for the Problem Gambling and Addiction Fund and support the goal of mitigating harm caused by legalized gambling, she said. The money can be invested in public education, treatment screening and counseling services, she said.
"Everyone who profits from sports betting bears responsibility for gambling problems. The only way to maximize benefits from sports betting is to minimize problem gambling," Stidham said. "The addition of sports betting into our state will bring an unprecedented blitz of advertising to urge Kansans to bet instantly from their phone on every action by every player on every play in every game in every sport."
She said an estimated 46,000 adults in Kansas suffered from a gambling disorder. This population is 10 times more likely to attempt suicide and have higher rates of substance abuse and mental health disorders, she said.
Terry Humphrey, who lobbies for the Humane Society of the United States and Stray Dog Policy, recommended the Senate committee expand the bill's prohibition on sports wagering on greyhound races conducted in Kansas. She said a coalition of 39 animal welfare organizations in Kansas believe the bill ought to ban sports bets on all greyhound racing regardless of location.
Lobbyist Jason Watkins, representing Ruffin Companies and Kansans for Fair Play, proposed an amendment to authorize three closed horse or greyhound race tracts to engage in sports gambling operations. Tracks in Park City, Frotenac and Kansas City, Kansas, are closed because the 40% of profits claimed by the state from slot machines at those tracks is excessive given casinos are taxed at a rate of 22%, Watkins said.
He said the Senate bill would unfairly deny racetrack owners an opportunity to participate in sports wagering in conjunction with the four state-owned casinos, the Kansas Speedway complex, the Sporting KC soccer facility at Children's Mercy Park and potentially tribal casinos.
"We trust that very soon, the Kansas Legislature will do the right thing and act to grow jobs, incomes and tax revenue by creating parity in gaming revenue taxes," Watkins said. "The tracks will reopen in Kansas, and when they do, they should have the right to offer sports wagering just like the casinos."
Supporters of the Senate version of the sports gambling bill offered testimony Wednesday. The committee didn't take action on the bill after the second day of hearings Thursday. The Senate panel is likely to begin fine-tuning the sports wagering legislation Feb. 24 with the expectation senators will attempt to amend the bill.