Douglas County Commission lets local health order with mask requirement stand; will discuss again next week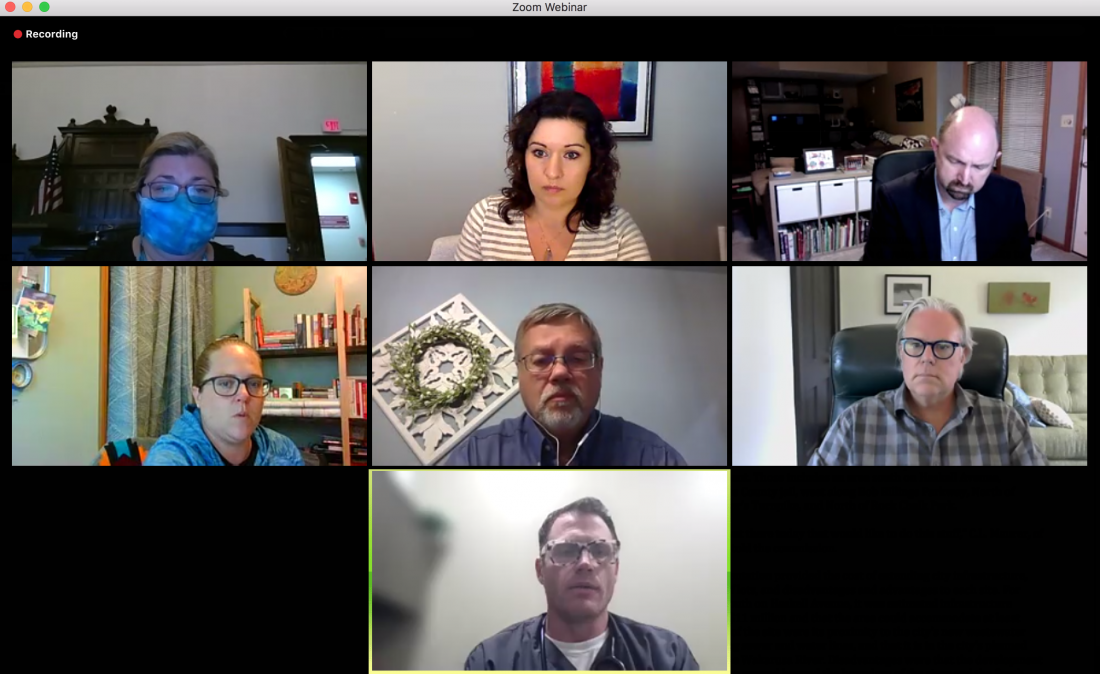 TOPEKA, Kan. – Douglas County leaders took no action Wednesday on the county's standing health order that includes a mask requirement, saying they needed to consider the age groups who could not yet be vaccinated.
As part of its meeting Wednesday, the Douglas County Commission considered a recommendation from public health staff to rescind the health order and replace it with health guidelines that strongly recommend masks for indoor public places and social distancing, among other recommendations. The health order is set to expire on May 26, and commissioners agreed to let it remain in place and directed public health staff to provide a recommendation with specifics about younger age groups that still cannot get vaccinated or only recently became eligible.
Commission Chair Shannon Portillo said she had requested that the commission reconsider the health order following recent CDC updates to masking guidance for vaccinated people. However, she said considering additional information later provided by the CDC and the community's overall vaccination rate, she wanted to leave the health order in place for upcoming mass gatherings. Portillo noted that the reason the commission set the expiration date of the order for May 26 was so that it would not expire before the upcoming University of Kansas and high school graduation ceremonies.
"So I do think that there is some good reason to let it ride to the 26th," Portillo said. "I think that also gives us a bit more time to consider, does it make sense to have new health orders or not? I think that there's, it sounds like, some potentially conflicting thoughts from what that might look like."
Portillo also emphasized that the guidance was only for vaccinated people and not for the community at large, and that when she considered that 60% of the community was not vaccinated and some age groups were still ineligible for vaccination, it made sense to let the current order stand.
The CDC last week updated its guidance, which Kansas' governor has adopted, to say that fully vaccinated people no longer have to wear masks indoors or outdoors or to physically distance, except in circumstances such as those required by businesses, public transportation or health care facilities. Amid confusion, the CDC later clarified that schools should continue to require masks and social distancing for the remainder of the school year. Local governments can also still opt to require masks, though any health order put in place by Douglas County would have to follow requirements recently enacted by the Kansas Legislature.
Commission Vice Chair Shannon Reid said she had also requested to move up the conversation about the health order, but that had been a quick reaction to the CDC announcement. Reid agreed with Portillo's concerns about the overall vaccination rate and noted that vaccination only just began for 12- to 15-year-olds, meaning even those who received their vaccination right away are not yet fully protected, and those under 12 remain ineligible. Reid said she's interested in being responsive to the realities of the community, and in addition to access to vaccines that included the fact that schools are still in session and large events are coming up.
"I'm interested in us being responsive rather than reactive, and I think that what we've seen across the state and across the country since last Thursday's announcement has been a lot of reaction," Reid said. "And so this conversation tonight has been really helpful to me in really thinking through it more."
Commissioner Patrick Kelly acknowledged comments from local health officer Thomas Marcellino that new cases and hospitalizations had come down significantly and that more data was showing that vaccines were effective. However, Kelly said he was supportive of letting the health order continue until it expired, though perhaps for different reasons. Kelly said he thought it would create a burden on the county's pandemic Unified Command and on schools to switch up the requirement with one week of classes remaining.
"I think it would create confusion," Kelly said, also noting that unvaccinated children were meeting in large groups within schools. "I think schools are relying on us."
Before their discussion, the commission heard from public health staff and health officers as well as about an hour of public comment. Various commenters spoke against mask orders, some saying they were not legal or debating the science that indicates mask are effective at preventing the virus. Others, including a woman representing a group of 10 Lawrence households with school-age children, asked that the health order remain in place.
Commissioners did not say they would necessarily like a new health order developed, but they said they would like the recommendation to more specifically address children who are not yet eligible for vaccines or only just became eligible. The commission will further discuss health guidelines and recommendations at its meeting next Wednesday.