Douglas County reports 10 new COVID-19 cases since Monday; 204 remain active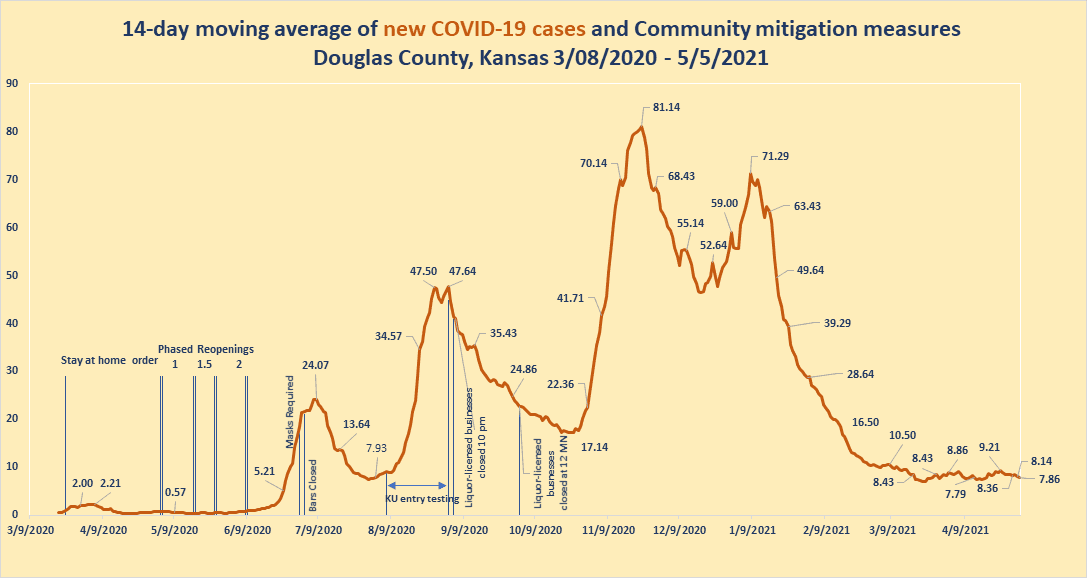 TOPEKA, Kan. – Douglas County reported 9,226 cases of COVID-19 as of Wednesday, an increase of 10 cases since Monday.
In Douglas County, 9,022 out of the 9,226 cases are inactive or beyond the infectious period, according to Lawrence-Douglas County Public Health, meaning 204 cases are active.
The county has averaged about eight new cases per day over the last 14 days, according to a 14-day moving average graph updated weekdays by the health department. The current average of 7.86 cases is up from a low of just under seven new cases per day in mid-March and down from a recent high of 71 cases per day in early January.
Douglas County has a 14-day COVID-19 incidence rate of 91.45 per 100,000 people and a test positivity rate of 2.6%. Five patients at Lawrence's hospital had COVID-19 on Wednesday, one more than Monday. To date, 87 Douglas County residents have died from COVID-19.
Registration for vaccination clinics at LMH Health is open to the public, and registration codes are posted at LDCHealth.org/COVIDVaccine and Douglascountyks.org/Coronavirus. Community members may also get a vaccine at LMH Health without making an appointment in advance. Any residents with questions about COVID-19 or the vaccine interest form may call Douglas County's help line at 785-864-9000.