MHS Softball can't touch Canady in pair of losses vs. Topeka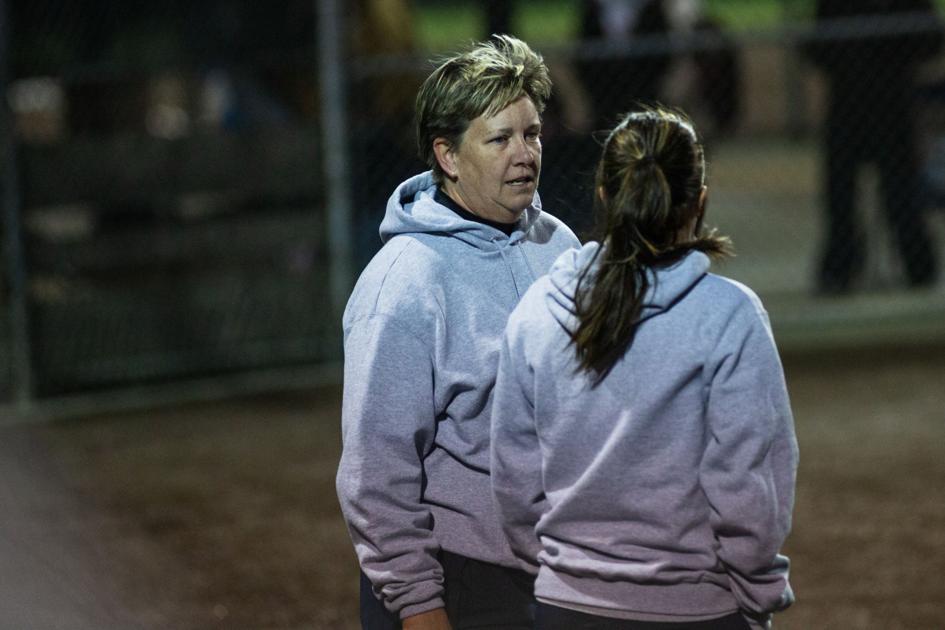 TOPEKA, Kan. – After Monday's 12-0 Game 2 loss against Topeka, Manhattan head coach Connie Miller visited with Trojans pitcher NiJaree Canady outside the Indians' dugout.
In greeting Canady, Miller paid her the greatest compliment a pitcher can receive.
"Honey, we like to see you," Miller said. "But we don't like to see you."
The Indians (4-4) didn't see Canady well enough during either of their losses to Topeka at Frank Anneberg Park. During Canady's 10 innings in the circle, they scored zero runs against her; they notched five hits and reached base 10 times; and they struck out 18 times compared to just one walk.
Miller couldn't blame her batters, however. At 6 feet tall, Canady intimidates betters before she throws a pitch. Then she blows her fastball past them. Then she knocks them off balance with a curve.
The opposing uniforms change; the results don't. When Canady steps inside the circle, zeros follow.
"She's an imposing pitcher out there," Miller said. "It's hard to dial into it and get the upper hand. She's just really good."
Canady's dominance escalated Manhattan's reliance on Game 2 starter Jaden McGee. In her third career start, McGee, allowed 11 earned runs on 10 hits in five innings. She allowed four runs in the first and seven through three, but Miller never considered replacing her freshman starter.
With the Indians' offense floundering, Miller deemed the experience healthy for McGee.
"A game like this is a good game for a young pitcher to stay in," Miller said. "We weren't even getting anybody on base. So let's leave her in to get game experience, and maybe she'll do a little maturing along the way."
Despite the numbers, Miller thinks McGee handled herself well. Even as Topeka poured on five runs in the fifth, Miller let McGee finish the inning.
Miller admires the fortitude McGee showed against Topeka. Despite the Indians' struggles, she kept pushing.
McGee couldn't keep pace with Canady or Quincy Smith, who pitched two shutout innings to close the game for Topeka, but she wasn't supposed to.
When Canady takes the mound, opposing pitchers feel the pressure to match her zeros. Her teammates feel empowered to swing freely. And the other team usually leaves the field with a loss.
"I don't feel too bad about this because she does this to everybody," Miller said. "You have to find the positives with it."
GAME 1
Kierra Goos kept the Indians optimistic through most of their 6-0 loss in Game 1.
Through six innings, Goos kept Manhattan within two runs of the Trojans. Their only runs came on Adisyn Caryl's RBI single in the first and Canady's solo home run in the third inning (yes, she can swing it, too).
But in the seventh, Topeka scored four runs to put their lead out of reach. Goos walked three batters in the seventh (one intentionally), and she paid for those free runners when Smith lined a single into left field. Smith's hit scored two, and a Manhattan throwing error scored another.
Miller couldn't pinpoint why Goos struggled with location in the seventh. And Goos impressed Miller by navigating Topeka's lineup so effectively during the first six innings. But against Canady, who threw a complete game shutout to start the doubleheader, Goos had to be perfect, or close to it. She was close until the end.
"She was just having a little trouble hitting her spots," Miller said of Goos's seventh inning. "It was good to see Goos compete against a good team that can hit the ball. It just didn't go our way."
Miller said the pressure to match Canady's dominance "definitely" impacted her pitching staff against Topeka. Canady left Goos no room to breathe in Game 1 thanks to 11 strikeouts and one walk in seven shutout innings.
That performance continued a troubling offense trend for the Indians. After scoring 28 runs in their first four games, they've scored two in the four they've played since, all of which have been conference games (Seaman swept the Indians last Thursday). They've been outscored 31-2 in conference play.
Miller attributes those numbers to Manhattan's competition. Topeka and Seaman are perennial conference contenders. Meanwhile, the Indians boast just three players with varsity experience.
For that reason, Miller didn't deliver a spirited pep talk after Monday's doubleheader. She's not worried about Manhattan's confidence as it prepares to play Washburn Rural at 4 p.m. Friday.
Most teams aren't Topeka. They don't have Canady, or anything like her.
"I think they'll be fine," Miller said. "I think they realized what they were up against today. I think they realize we're not going to see another pitcher like her."