Preps notebook: Former Free State football coach Bob Lisher will take over Baldwin program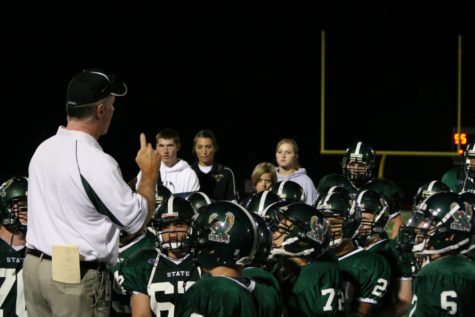 Friday's City Showdown postponed
With Lawrence High's softball team in quarantine, the City Showdown on Friday has been postponed. A makeup date has not been announced, as Free State was slated to host LHS at 5:30 p.m. Friday.
In addition, LHS (2-8) had two other games scheduled for this week that have since been moved. Lawrence was slated to host Blue Valley North on Tuesday, and had another home game against Olathe West on Thursday. No makeup dates have been announced.
The Lions return to the softball diamond on April 27, where they will travel to Mill Valley.
Local freshman golfers earn top-20 finishes
A pair of local golfers finished inside the top 20 to lead the way during the second round of the Sunflower League Invitational on Monday at the Sunflower Hills Golf Course.
Freshman Jack Randall, who won an individual title during the first round last week, followed that up with a 13th-place finish. He shot an 81 to post the highest finish among area golfers, leading FSHS to a seventh-place finish as a team with a total score of 355.
Lawrence freshman Gunnar Wayenberg carded an 84 to finish in a tie for 19th place as an individual. The Lions posted a total score of 404 to place 12th out of 15 squads in the event.
Olathe West won the round with a total score of 318. Mill Valley senior Nick Mason shot 71 to claim the top spot on the individual leaderboard.
Both teams will be back in action at the Village Greens Golf Course on Wednesday.
Sunflower League second round
Monday at Sunflower Hills Golf Course
Team scores: 1. Olathe West 318; 2. SM East 320; 3. Olathe NW 323; 4. Olathe South 332; 5. Olathe East 343; 6. Mill Valley 344; 7. Free State 355; 8. SM Northwest 359; 9. SM South 364; 10. Olathe North 373; 11. SM West 385; 12. Lawrence 404; 13. Gardner Edgerton 415; 14. SM North 459; 15. Leavenworth 472.
FSHS results: 13. Jack Randall 81; 25. Jackson McMillan 86; T34. Reece Gray 89; T53. Nate Pilakowski 99; T64. Dawson Pfannenstiel 103; 68. Cameron Packard 104;
LHS results: T19. Gunnar Wayenberg 84; 64. Macade Lewis 103; 75. Evan Liakos 108; T76. Austin Pennybaker 109; T80. Dallas Ostronic 111; T80. Mike Williams 111.
LHS senior soccer standout delivers clutch goal
Senior I'yawa Brewer was the hero in Lawrence High's 1-0 road win over Pembroke Hill on Monday.
After a defensive battle for all of regulation, Brewer delivered the game-winning score in overtime to help the Lions pick up a big win. Brewer's golden goal was assisted by Campbell Leitch.
The Lions are now 2-2 on the year.
LHS will host Shawnee Mission East at 6 p.m. Thursday.
FSHS tennis places 11th
Free State's boys tennis team placed 11th in a tournament at the Plaza Tennis Center on Monday.
The Firebirds were led by their doubles team of Ben Melvin and George Thornton on the day. After entering the event at the No. 13 seed, the duo finished ninth by going 3-1. They lost their first match to Liberty High School before collecting wins over Barstow, Lee's Summit West and Blue Valley.
Minh Vu and Jake Hedges, who were the No. 14 seed, went 2-2 with wins over Manhattan High and Lee's Summit North. They took 11th as a doubles team in the tourney.
Jared Loos also placed 11th in the singles bracket, earning wins over Lee's Summit West and Lee's Summit North during a 2-2 effort.