Senate creates massive fund to compensate businesses for COVID-19 excesses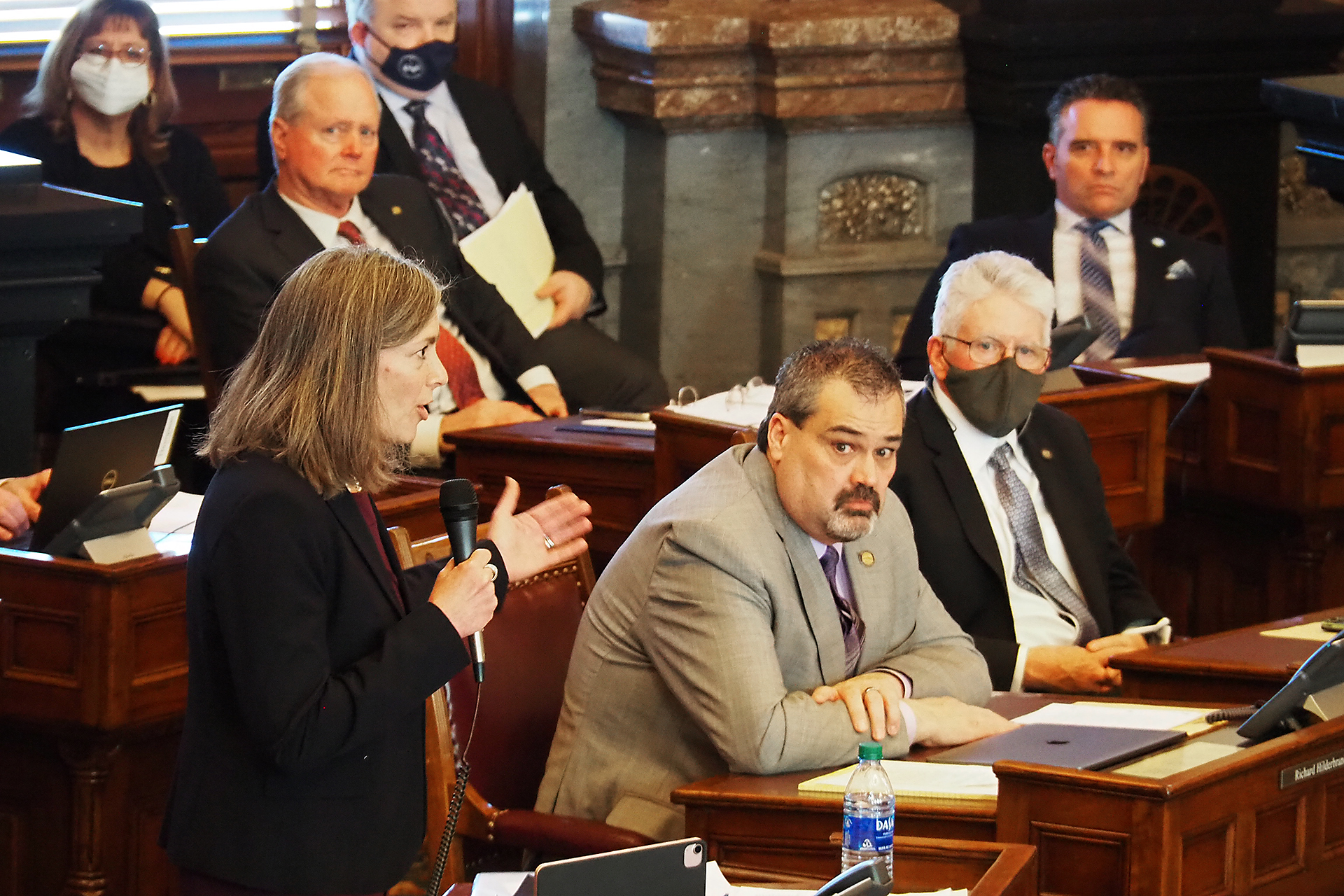 TOPEKA, Kan. — The Kansas Senate endured an excruciatingly long debate before approving a bill Tuesday anointing a three-person board with unilateral authority to settle behind closed doors the economic damage claims filed by businesses stung by COVID-19 orders of state, county or city governments.
The legislation sent to the Kansas House would place Attorney General Derek Schmidt, a candidate for the Republican nomination for governor in 2022, in charge of a novel settlement process allocating a tantalizing $700 million to businesses. Work of the board would be exempt from the state's open meeting and records statutes. GOP senators were adamant Gov. Laura Kelly have no leadership role in this assistance initiative.
Senate Democrats raised questions about whether the bill created a conflict of interest for the attorney general because Schmidt would be responsible for defending the state in COVID-19 lawsuits as well as resolution of the COVID-19 claims submitted by businesses to the board."Part of the American dream is being a business owner. You put your blood, sweat and tears into your effort," said Sen. Kellie Warren, a Johnson County Republican. "I think businesses were blindsided and their liberties were taken away."
In addition, Senate Minority Leader Dinah Sykes said Schmidt would reap political benefit from administering the compensation system. Kelly, too, is campaigning for re-election as governor.
Senate President Ty Masterson and House Speaker Ron Ryckman, both Republicans, and the Democratic governor would each select one person to serve on the business-relief board. The state is expected to receive in the neighborhood of $1.6 billion in the next round of federal stimulus funding approved by Congress and President Joe Biden.
The Senate bill was amended to set aside 35% of available federal COVID-19 relief aid to compensate Kansas businesses for pandemic abuses of government. When the floor debate began, Senate Bill 286 would have laid claim to 100% of unencumbered relief aid allocated to Kansas.
Sen. Rick Wilborn, R-McPherson, offered the amendment lowering the percentage because the notion of "100% was probably too rich" and a final figure would likely have to be negotiated with the House.
In addition, the bill was altered by the Senate to require placement on a public website of the business name, address and amount of payment for each award authorized by the special board. Thousands of Kansas businesses are expected to apply, lawmakers said.
Warren, chairwoman of the Senate Judiciary Committee, said developers of the bill sought an expedited process for distributing compensation. Still, the bill wouldn't require completion of the compensation program until end of 2022. Secrecy of board deliberations is important because companies will be asked to submit confidential financial records with applications, she said.
"We wanted to make sure businesses that have been through so much already because of restrictions by a government … would be properly protected," Warren said.
Sen. Tom Holland, a Baldwin City Democrat, said the bill lacked a precise definition of what economic harm would trigger one of these government payouts. He asserted Schmidt could become mired in a conflict of interest by organizing a system allocating settlement payments to businesses offended by government mandates and turning around to fight businesses that filed lawsuits against the state seeking compensation for COVID-19 mandates by government.
"I see this as a massive conflict of interest," Holland said. "I'm concerned you've got the attorney general wearing two hats. Who does he represent? On top of that, the guy's running for governor. Come on. It has very little transparency. The accountability is out the window."
Warren objected to Holland's interpretation of a conflict of interest, saying: "I will tell you you are way off. The conflict-of-interest argument is a red herring."
Rep. Fred Patton, a Topeka Republican and chairman of the House Judiciary Committee, raised questions about the measure.
"I'm supportive of the idea," he said. "Why would we not have any of this information open to the public? We're comfortable allowing a three-member unelected body to distribute that kind of money? I don't have any right to appeal?"
Under the bill, businesses applying for compensation through the new system would submit up to three years of tax returns. Businesses also would present information about how government impaired their operations, how much in stimulus loans or grants had been received through other federal, state or local programs and whether the business was deemed essential or nonessential in the pandemic. The application could include a summary of extraordinary contributions of a business to the community during the COVID-19 crisis, which has been linked to the death of nearly 5,000 Kansans.
He also raised concern the unprecedented flow of federal money into the Kansas economy in response to COVID-19 could fuel a false confidence in people that they could depend on government bailouts in the future.Sen. Dennis Pyle, R-Hiawatha, said drafters of the bill should have required issuance of written notices to business statewide about the program. Too many store owners will likely not be aware of decisions at the Capitol allowing people to file claims with the state board, he said.
The GOP-controlled Senate deflected a series of amendments authored by Democratic senators, including a proposal to compel businesses receiving compensation to earmark half of their payouts for employee salaries of benefits. Also defeated was the Senate Democratic leader's amendment directing a portion of available federal aid to Kansas workers on the front line of the pandemic, including health and education employees.
Sen. Mike Thompson, a Johnson County Republican, said intent of this legislation wasn't to cut another check for individuals. He said the objective was to sanction reckless government at all levels and to compensate businesses that suffered from government overreach.
"There's got to be some punitive portion of this bill," Thompson said. "This is a compensation package for businesses. It has nothing to do with employees."
Also rejected by the Senate was an amendment by Sen. Pat Pettey, a Democrat from Kansas City, Kansas, that would pass COVID-19 business claim responsibilities from the attorney general's office over to the Kansas Department of Commerce.
She also was unsuccessful in attempting to remove from the bill the obligation of cities and counties to pay damage claims to businesses that were determined by the three-person board.
"I think it's very inappropriate for us doing this overreach of Big Brother," Pettey said.
Warren said she would seek to advance a bundle of COVID-19 legislation before end of the annual session. Her list included adoption of a prohibition on so-called vaccination passports.
Her bundle could include permanent extension of a law allowing people to decline to participate in contact tracing for the virus. It could feature tweaks to a law enabling individuals to swiftly challenge COVID-19 restrictions adopted by school districts or other government entities.