12- to 15-year-olds getting vaccinated just 'want everything to go back to normal'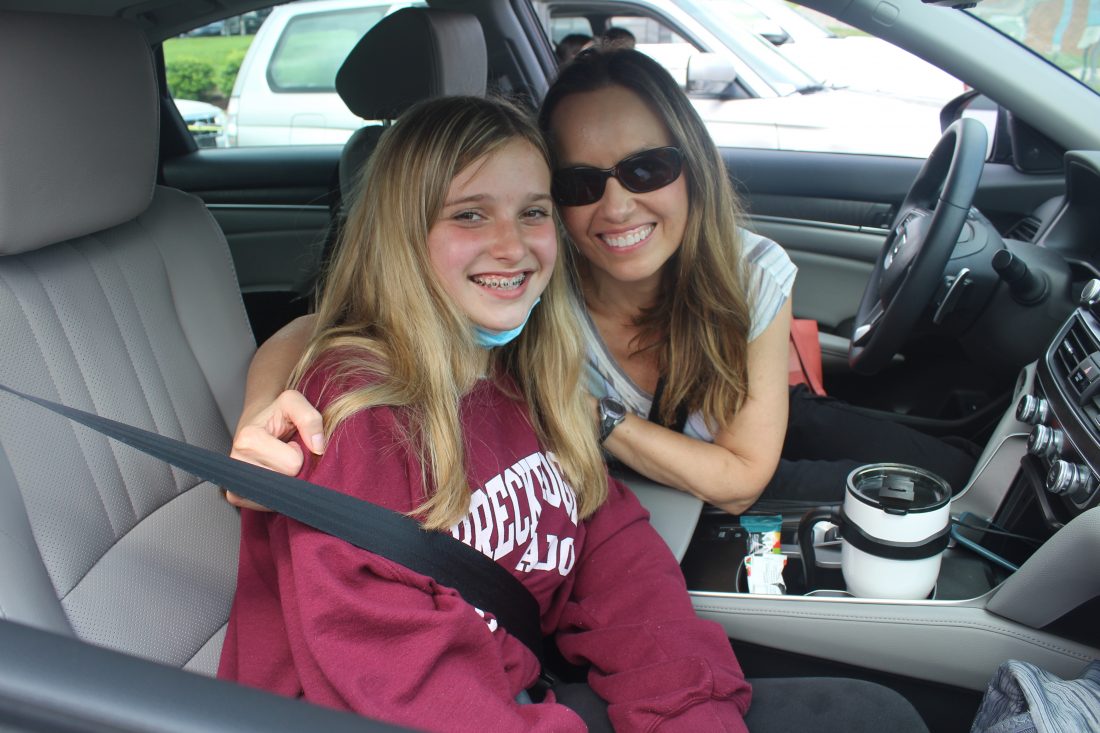 TOPEKA, Kan. – Ro O'Leary is looking forward to attending school dances and football games, activities she missed out on this year because of the COVID-19 pandemic.
So the 15-year-old said on Tuesday that she was "really excited" to have received a COVID-19 vaccine.
"It's kind of the first step of being able to do normal things again," she said.
Ro is a freshman at Lawrence High School, but she attended school virtually this year. Now that she's received her first dose of the Pfizer vaccine, she's looking forward to going to school in person next year, hanging out with friends and going to eat indoors at Zen Zero.
The Journal-World spoke to six students between the ages of 12 and 15 who were receiving their first dose of a COVID-19 vaccine at LMH Health's drive-thru clinic on Tuesday. Gov. Laura Kelly opened up the Pfizer vaccine to children 12 and older on May 12, the same day that federal health advisers endorsed the use of the vaccine in younger adolescents.
Health department spokesperson George Diepenbrock said that at LMH Health alone, 259 12- to 15-year-olds have received a COVID-19 vaccine since May 13.
Other local pharmacies have also been administering COVID-19 vaccines to the newly admitted age group, but the health department does not yet have data from all the distributors in the county. Diepenbrock said Lawrence-Douglas County Public Health expects to receive the total number of vaccinated 12- to 15-year-olds from the state on Wednesday.
Siblings Paityn Van Middlesworth, 12, and Aiden Van Middlesworth, 15, both received their first vaccine doses on Tuesday. Aiden, a freshman at Tonganoxie High School, said he wants to return to playing the trumpet for an in-person audience and participating in competitions.
Paityn, a sixth grader at Tonganoxie Middle School, wants to participate in Science Olympiad competitions in person. Although she doesn't like shots, Paityn said she was excited to receive her COVID-19 vaccine on Tuesday — and to hang out with her brother.
For West Middle School student Jeremiah Jones: "I just want everything to go back to normal — to be able to sit with all my friends at lunch instead of just one." Jeremiah, 13, is also looking forward to not having to wear a mask all the time.
13-year-old Peyton Hewins, a seventh grade student at Southwest Middle School, came straight after school to receive her shot. She's had to be really careful about COVID-19 because she lives with her 82-year-old grandfather.
"I want this all to be over and to be able to do everything that I want to instead of just being at home all the time and having to be really careful," she said.
And for 13-year-old Parker Dwyer, getting the COVID-19 vaccine means getting to see his extended family, who enjoy doing activities together. It's been something Parker's missed.
Like all the parents the Journal-World spoke to on Tuesday afternoon, Parker's mom, Crystal Dwyer, said she was ready to sign her child up for the vaccine right away.
"As soon as they gave the OK for 12-year-olds and above, we were on it," she said. "He's the last one in the family to get vaccinated … We were very excited."