Blue-collar Topekan flies U.S. flag upside down to express distress with Democrats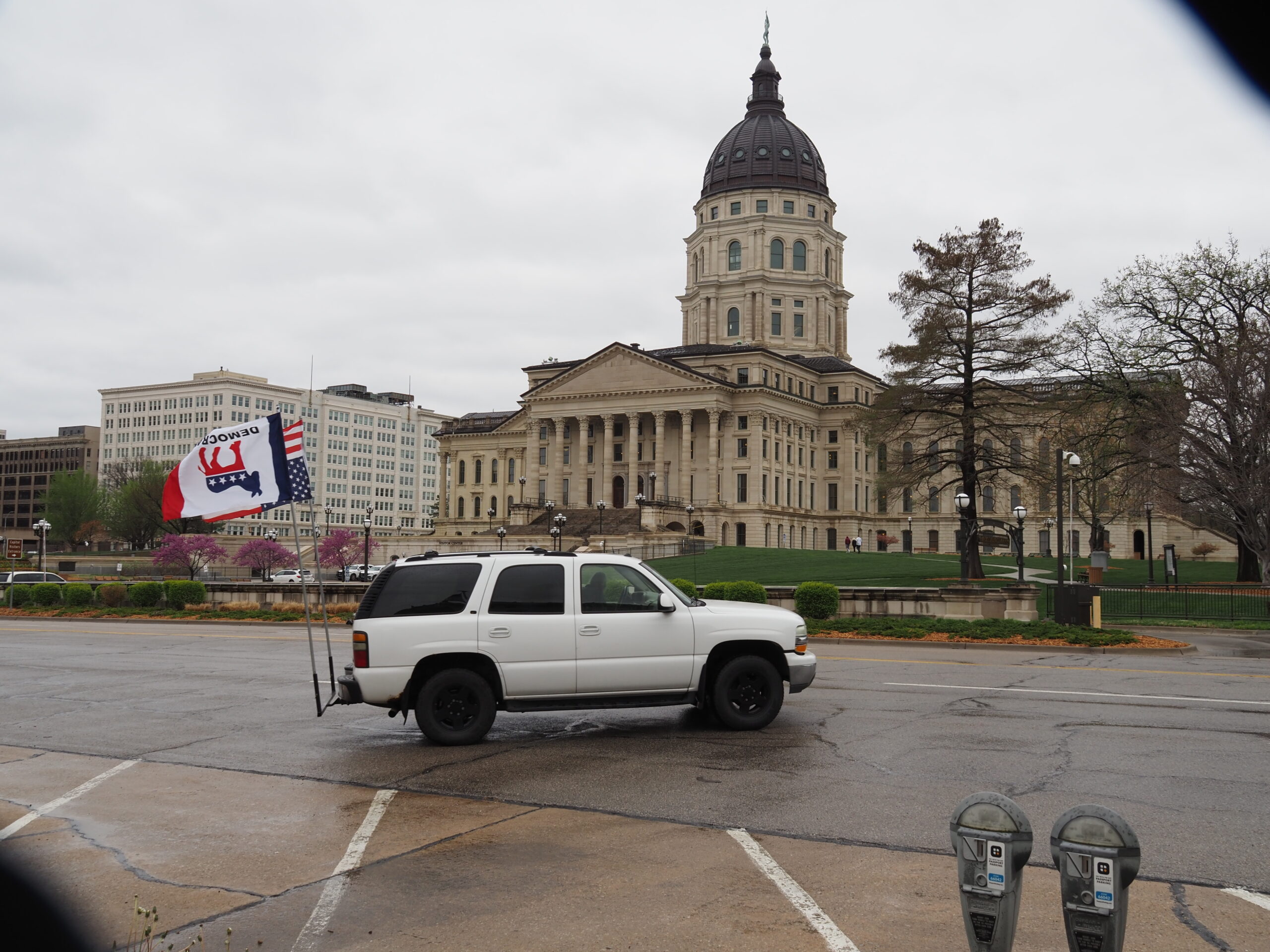 TOPEKA — Concrete worker Harold Green put on display his disappointment with the federal immigration policies of President Joe Biden and management of the state's unemployment system by Gov. Laura Kelly.
Green, a Topeka resident and son of a U.S. Navy veteran, circled the Capitol with a pair of flags affixed to the back of his white vehicle, including an upside down Stars and Stripes. Flapping in the air, also turned on its head, was a flag representing the Democratic Party of Biden and Kelly.
"When you fly it in that respect, it means you believe your country is under distress," Green said during a pitstop. "Take a look at the border. Two, this office being run right here by our governor. I'm just a simple, little concrete worker. I've been in that unemployment system for a long time. I can't draw the money from them."
Green said the Department of Labor owed him $412, but connecting with agency representatives proved difficult.
He also said the White House's responsibility for a surge in flow of immigrants at the southern border and the bureaucratic quagmire at the Kansas Department of Labor would have been avoided by election of President Donald Trump in 2020 and of GOP governor nominee Kris Kobach in 2018.
While offering a visual display of his views Thursday to members of the Kansas Legislature meeting inside the Capitol, Green left folded his flag honoring Trump. He voted for the former president and for Kobach.
He said the upside-down presentation of flags was jarring to some people taking in his statehouse protest. One person came outside to request he remove the flag denouncing Democrats, he said. He declined without hesitation, and also asked that he not have his picture taken because he didn't want to be mistakenly portrayed as the kind of dissident capable of storming the U.S. Capitol. He said those Trump supporters made a terrible mistake in Washington, D.C.
"You think I'm patriotic? Damn right I am," Green said while a law enforcement vehicle roared by. "I don't think things are being run correctly."
He said Trump would have concentrated on building the border wall and leaned on hardline policies discouraging people from crossing the border into the United States. Biden has been criticized by Democrats and Republicans for growth in the volume of migrants at the Mexico-U.S. border, and Democrats have questioned use of a public health order to expel many arriving at the border.
Biden also caught Green's attention with executive orders Thursday intended to deter acquisition of "ghost guns," which are handmade or assembled without serial numbers, and the use of stabilizing braces on handguns to make the weapon feel like a short-barreled rifle. The president called gun violence in the United States an "international embarrassment" and a "blemish on the character of our nation."
The president urged Congress to expand firearm background checks and closure of a loophole that allowed people convicted of domestic violence or abuse to buy guns.
In Topeka, Kelly was hampered during the COVID-19 pandemic with an old computer network at the Kansas Department of Labor. People losing jobs during the pandemic have had difficulty getting through to unemployment specialists at the labor department to file claims. A backlog was created and there was a spike in fraudulent claims. Some of those challenges were partially addressed, but the governor planned to avoid a repeat in the future by seeking bids on a computer modernization project that could cost more than $40 million.
Kelly said a previous administration — Republican Gov. Sam Brownback — pulled the plug in 2011 on a plan to modernize the Department of Labor's computers. After elected governor, Kelly instructed the state agency to revive modernization plans. The state issued a request for proposals last week for businesses capable of helping the department overhaul its computer operations.
"Unfortunately, the pandemic hit, and the antiquated technology was unable to keep up with the record volume of claims," Kelly said. "We will finish what other administrations failed to do."
Green's flags of despair, however, didn't declare another criticism of political life in the United States — bias among news organizations.
If Trump was still president, he said, coverage of a influx of foreign nationals at the border would have been met by steady criticism by national reporters. With Biden at the helm, the coverage has been muffled.
"The media is terrible. Sorry, about that," Green said. "Just a few months ago, had this border thing been going on, it would have been 24/7 coverage. I think the general person that doesn't recognize that either doesn't want to or isn't paying attention."