City football: Kelly, Trojans looking to continue winning ways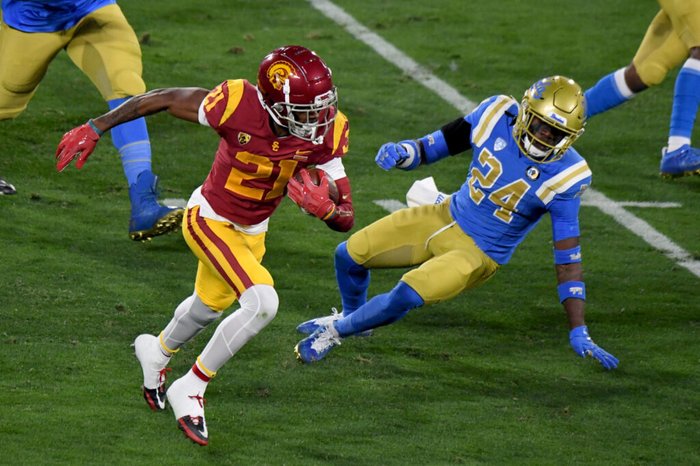 TOPEKA, Kan. – Topeka High's football team graduated what was arguably the most talented senior class in school history, including Ky Thomas, the No. 2 all-time rusher in Kansas, and fellow Division I signee Da'Vonshai Harden, High's three-year starting quarterback.
But new Topeka High coach Carlos Kelly, formerly a High assistant, said this year's Trojans remain motivated to add their names to the school's recent winning tradition, which includes a 27-6 record and six playoffs wins the past three seasons.
"That's a big task to try to replace those seniors, but we have a pretty good senior class coming in and they're hungry and ready to play and ready for the opportunity,'' Kelly said. "They're up for the challenge.
"We have a lot of guys that kind of flew under the radar when you have those big names that were in front of them, but we have a good group of guys coming back.''
Topeka High, which posted a 10-2 record and reached the Class 6A semifinals last fall, graduated eight seniors who received first-team All-City recognition on offense or defense last season, while All-City Top 11 pick J.P. Deeter transferred after his sophomore season.
But the Trojan cupboard is far from bare, led by returning All-City Top 11 selection Geivonnii Williams, a senior who will be counted on in a variety of roles this fall.
Williams, 6-foot-2, 191 pounds, had a big junior year for Topeka High on offense, defense and special teams, earning first-team All-Centennial League honors on offense and defense and second-team recognition at returner.
Williams caught 36 passes for 731 yards and 11 touchdowns in '19 and could also see action at quarterback this season.
"Geivonnii has really great hands,'' Kelly said. "You talk about a natural center-fielder, he can track anything.''
Other top returners include senior linemen Jeff Moore, Tre' Thomas and Myles Wright and junior running back/strong safety Tylan Alejos.
Alejos started on defense a year ago and is expected to become the Trojans' feature running back this season after the graduation of Thomas.
"Tylan is a really good, smart, heady player,'' Kelly said. "He's down and gritty and works hard.''
Alejos, Moore and Wright all received All-City honorable mention last season, while Topeka High also returns junior Tae Thomas, the All-City place-kicker in '19.
Although Kelly knows the Trojans still have a lot of work to do, he said there's no shortage of motivation.
"Nobody wants to be the group that has a letdown,'' Kelly said. "They have a lot of motivation and we have a lot of guys that have just been chomping at the bit to get going.
"It's their chance. It's their opportunity to play and they're thankful they're here and they want to do everything they can to say they're part of that winning legacy.''
Topeka High lost its season opener against Junction City when USD 501 decided to delay the start of the football season for at least a week.
The district is expected to make a decision concerning the remainder of the season this week, but Kelly said his team is preparing to play.
"We're playing until somebody tells us no and we've got to stay positive and we've got to be optimistic,'' he said.
TROJANS AT A GLANCE

Coach — Carlos Kelly, first year.

Last year's record — 10-2, 6-1.

Top offensive returners — C Jeff Moore, sr.; QB/WR Geivonnii Williams, sr.; OL Myles Wright, sr.

Top defensive returners — SS Tylan Alejos, jr.; DL Tre' Thomas, DL; FS Geivonnii Williams, sr.

Schedule — Sept. 11 Washburn Rural (Hummer), Sept. 18 at Emporia, Sept. 25 at Manhattan, Oct. 2 Highland Park (Hummer), Oct. 9 at Junction City, Oct. 15 Seaman (Hummer), Oct. 23 Topeka West (Hummer), Oct. 30 First round of 6A playoffs.