Coyote baseball splits with Morningside again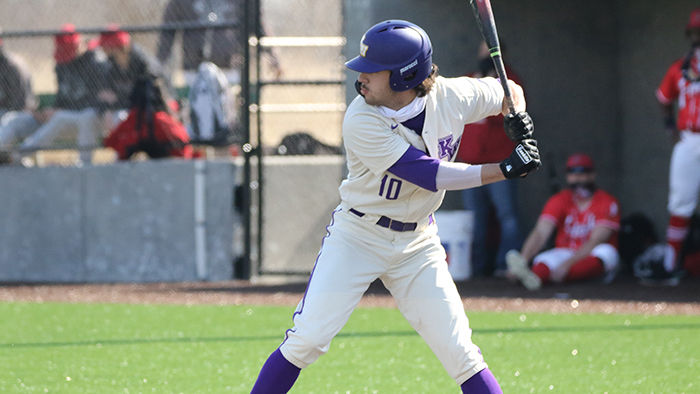 TOPEKA, Kan.  – The Kansas Wesleyan baseball team completed its home series away from home on Saturday, splitting with the Morningside Mustangs at the Bettis Sports Complex. After Friday's split, the teams split the four-game set.
Morningside took an early 1-0 lead in the opener but the Coyotes immediately bounced back. Haydn Brown (SR/Gardnerville, Nev.) and Trey Lopez (SR/Burlington, Wash.) both singled ahead of Josh Sandoval (SR/Glendale, Ariz.)'s 3-run homer to put KWU up 3-1.
The Mustangs got a run in the third, and two more in the fourth to take a 4-3 lead.
KWU was held to seven hits in the game, as Lopez had two to lead the way. Trent Dewyer (JR/Albuquerque, N.M.) went six innings, allowing four runs, two earned, on six hits, with eight strikeouts.
Wesleyan would return the favor in the second game, winning 4-3 to salvage the split.
Just like in the opener, Morningside took a 1-0 lead in the first, and the Coyotes followed with three runs in the bottom of the inning, although the method was slightly different.
Austin Cross (JR/Montgomery, Texas) led off with a single, followed by a hit by Brown. Cross scored on a wild pitch and two batters later Tyler Triano (SO/Hollister, Calif.) hit a 2-run homer to put the Coyotes up 3-1.
Morningside scored twice in the fifth to tie it, but the Coyotes answered back with a homer by Trey Lopez to give the Coyotes the one run cushion to get the win.
Brown had two of KWU's seven hits in the game and drove in two. Branden Voytko (JR/El Paso, Texas) got the win in relief, going two and a third with three strikeouts. Starter Kaden Sitzman (SR/McCook, Neb.) went four and two-thirds allowing three runs, two earned on six hits with four strikeouts.
KWU opens KCAC play on Tuesday at Sterling, and then just maybe, the true home opener for the Coyotes, a 3-game Kansas Conference series with Friends at Dean Evans Stadium.