Cyclones pull off 10th Big 12 win, beat Kansas in Lawrence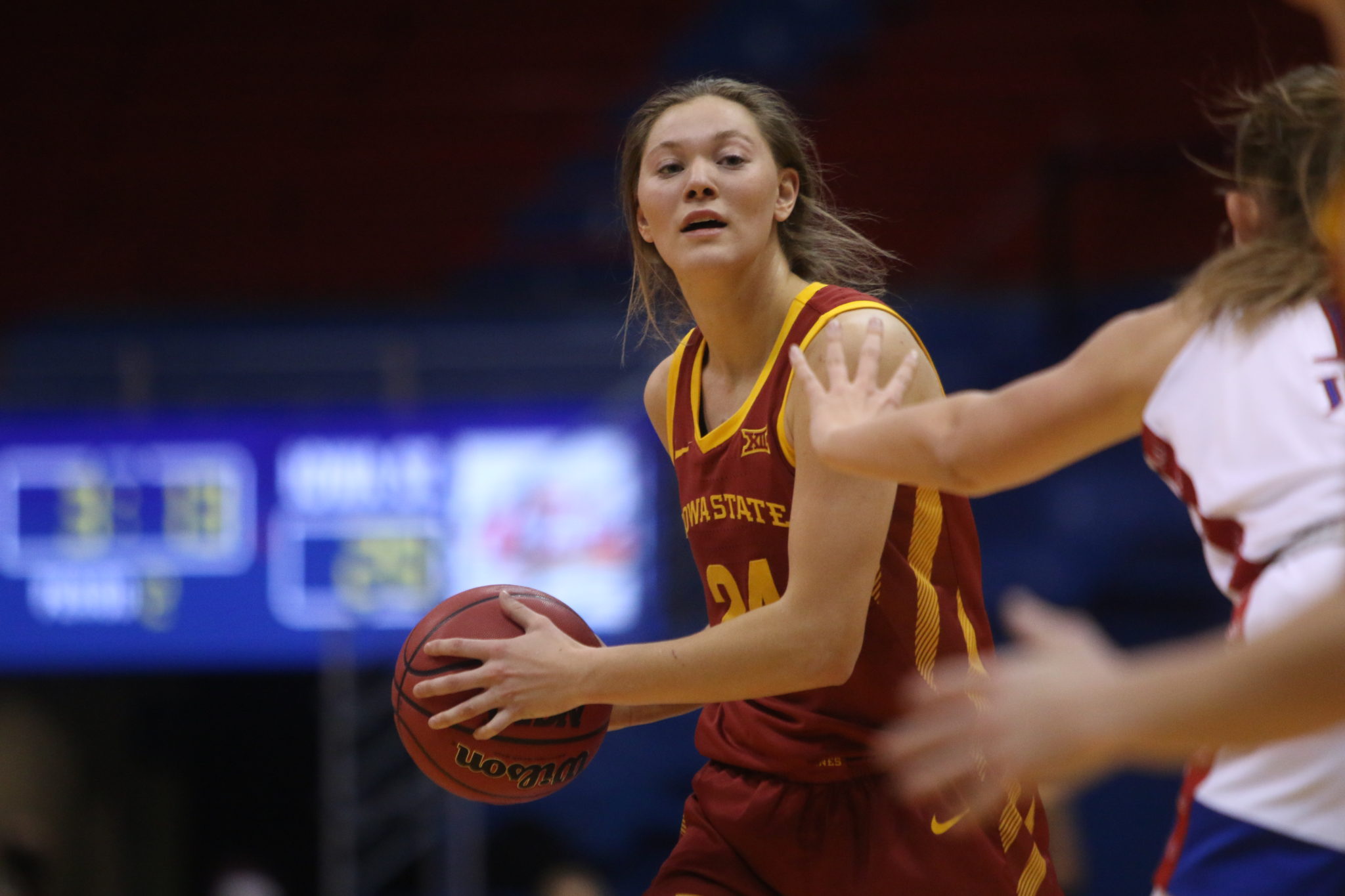 Kansas – As Iowa State's regular season winds down, Wednesday night's should-win game against Kansas turned into a battle down to the final seconds.
The Cyclones eked it out in the end, winning 84-82. It's the team's 12th-straight in the series.
"That's the one thing that our team has learned," Iowa State coach Bill Fennelly said. "You have to ignore the noise on the outside about who you should beat and who you shouldn't beat. You just have to go out and compete and this team has done that."
The win improves Iowa State's record to 14-8 (10-5 Big 12) on the year, with three games remaining in regular season play.
Wednesday's victory was Iowa State's fifth single-digit win–a stat Fennelly thinks will benefit the Cyclones in the postseason.
"We've won a lot of close games, which means you're executing at the right times, you're making the right decisions, (and) people are making plays that we need made," Fennelly said. "That was the case tonight, without question."
One of those plays for the Cyclones came as Ashley Joens got her own rebound off a miss with 10 seconds on the clock. Joens got the putback to go for 24th points of the night, which put her team ahead by four.
Overall, though, it wouldn't have been the same game without the team only giving up two turnovers in the final 20 minutes. The Cyclones also made 23 of their 24 free throws.
Fundamentals won the game.
"Those are things we talk about ad nauseum," Fennelly said. "(Those stats) are the little things, and they turn into the biggest thing on whether or not you win the game."
While Joens corralled a team-high 24 points, Kristin Scott and Lexi Donarski added 18 and 20 points, respectively.
It was Donarski's second game in a row scoring 20 points or more, and fourth this season.
She's emerging at the right time for the team.
"It feels good," Donarski said. "I feel like our team has been able to get a lot of people involved, which (makes us) really effective and we can score a lot when we do that."
On Saturday the Cyclones will travel to Oklahoma State for the second matchup of the year with the Cowgirls. Iowa State defeated the Cowgirls in Ames earlier this season.
The game is scheduled to tip off from Stillwater at 1:00 p.m. CT on ESPN+.