HES leaders kiss a pig to celebrate food donations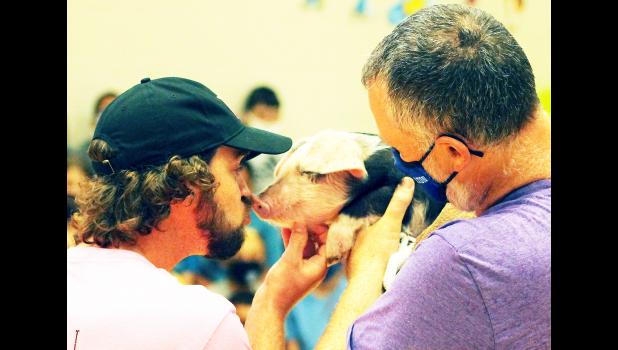 TOPEKA, Kan. – Holton Elementary School Assistant Principal Taylor Dunham puckered up to kiss a pig held by Holton High School ag teacher Jason Larison during a Monday morning celebration of a non-perishable food drive conducted by HES students that saw more than 1,100 food items collected for the JCMA Emergency Food Pantry, according to HES Principal Randy Fox.
For every three food items collected, students were able to cast a vote between Fox, Dunham or HES social worker Danyel Rockwell, with the top two vote-getters kissing the pig, provided by Larison's daughter, HES third-grader Clara Larison. Dunham and Rockwell got the most votes. Fifth-grade students will be involved in loading and delivering the food to the pantry on Friday, Rockwell said.