JCHS tennis competes at home invitational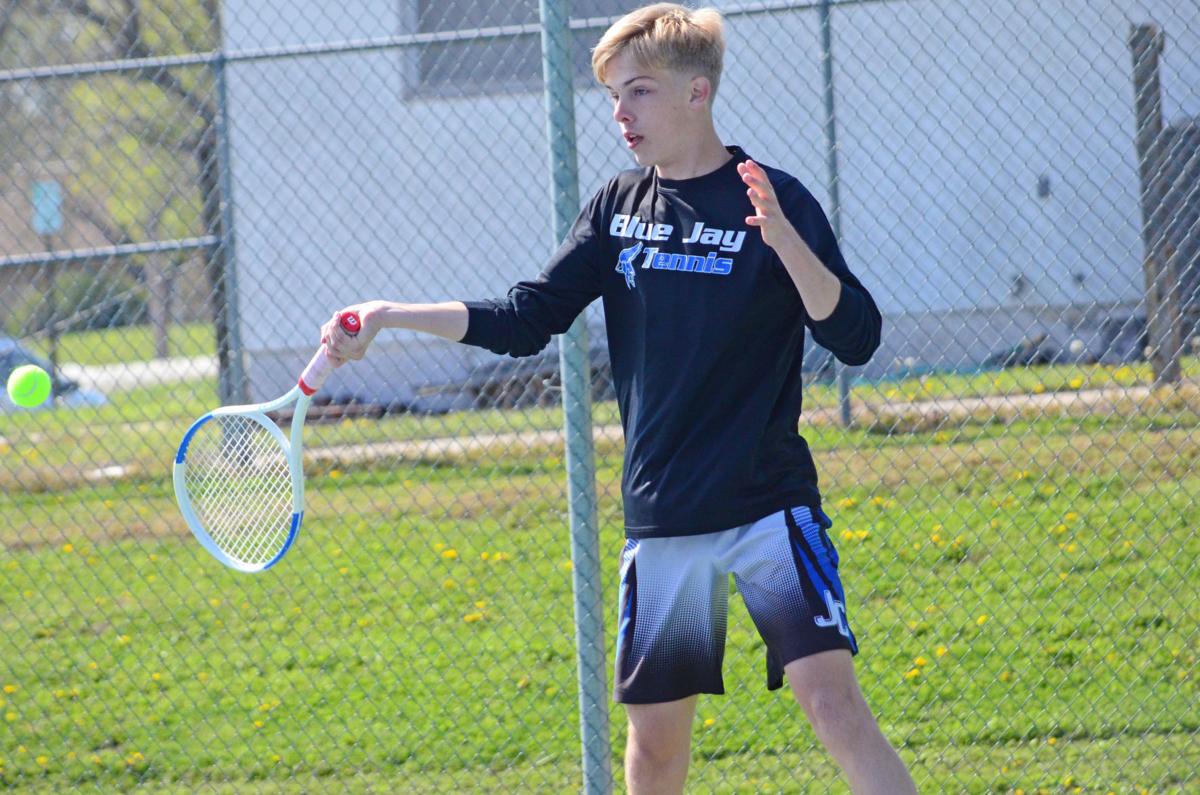 TOPEKA, Kan. – Junction City junior Hayden Diestelkamp knew what he was doing wasn't working. He had fallen behind Manhattan's Thomas Loub 5-2 in his second match of the day at the Blue Jays' home invitational on Saturday and something seemed off.
Diestelkamp beat Salina South's Jackson Sprecker 8-0 to start off the day but the junior just couldn't find a groove. However, after talking things over with head coach Matt Micheel, he had a pretty good idea of the tweaks he needed to make to turn the tide.
"I know Tom and I've played against him a couple times and he's really consistent," Diestelkamp said. "I kind of knew how he was going to play and I kind of outdid him on that end of consistency and gave him some balls that he didn't like seeing. I definitely slipped in how I was supposed to play my game after the third game or so and I let him get a few too many and then I stopped it and won six games in a row to close things out."
Micheel was impressed with the comeback and felt that he saw Diestelkamp really growing during the meet.
"I thought he showed a lot of mental toughness," Micheel said. "In the first four matches that he won, he was winning a lot of pressure points and was doing a lot of really good things. He had his strategy going for him and was able to change things up. He was doing all kinds of stuff. He out-grinded the other opponents."
Diestelkamp ran through his next two opponents, beating Topeka High's Kevin Gutierrez 8-1 before taking down Abilene's Cayden West 8-3. Undefeated, the junior then had to face Lawrence Free State's Britton Snyder who had also run through his previous four opponents without a loss.
"I heard from other people that he was playing really good and I saw him warm up and I was a little intimidated but I wasn't worried," Diestelkamp said. "I've competed against some higher level people but I haven't been able to beat any of them yet. I'm still learning."
Diestelkamp put up a good fight, winning one point but eventually fell 8-1 landing him second place.
"I'm proud of how I all-around played," Diestelkamp said. "I didn't really have anything that went completely south. My serves were going in, I was moving my feet, I was loading down on my shot and putting them to the backhand and for the most part doing everything I wanted. Things were just at a higher level for me today than usual."
Joining Diestelkamp in the win column was number two singles player Thomas Norris.
After narrowly dropping the first match of the day to Salina South's Will Fulkerson 8-7 with five tie-breaker points, Norris rattled off wins over Manhattan's Drake Karr 8-5 and Topeka High's Walter Evans 8-2.
"He's been bouncing between one and two singles," Micheel said. "And he battled at the number spot at times this season but today he was able to kind of slow things down and find some success at the two spot today but he still needs to work on his game. Today he was playing more offense than defense so he needs to find a way to balance those two and then he'll really start winning."
Norris finished the day with an 8-1 loss to Abilene's Kolton Coup and 8-0 loss to Free State's Jared Loos.
Doubles-wise, Nate Green and Alex Matthews competed in the number one spot and while they went winless, Micheel really felt that he saw the two start to put some things together in their final match versus first-place Lawrence Free State which the lost 8-3.
"They're just doing a really good job of coming out of their comfort zones and embracing what we've been teaching and applying it to matches and they'll just continue to get better," Micheel said.
The number two doubles team of Nick Beier and Alan Leis also went 0-5 with their closest match coming in a 8-3 loss to Free State.
The Blue Jays will compete in one final big meet in Topeka on Monday and one quad at Salina Central on Thursday before starting postseason play a week from Monday in Topeka for the Centennial League meet.
"Our whole motto for the year was don't waste the experience," Micheel said. "Don't waste practice, don't waste the matches and make sure you get better because we're not very experienced so we want to develop those skills as we play those matches. When you're getting beat, and we've taken our share of losses, then it's hard to keep your confidence so that's also been a big thing we've been concentrating on. We don't want them to assume that they're automatically going to lose, we want them to continue to practice so they can see they're growth which will hopefully keep driving them to get better and better."