Kansas College Students Say Campus Life During A Pandemic Is 'Like The Ocean Dried Up'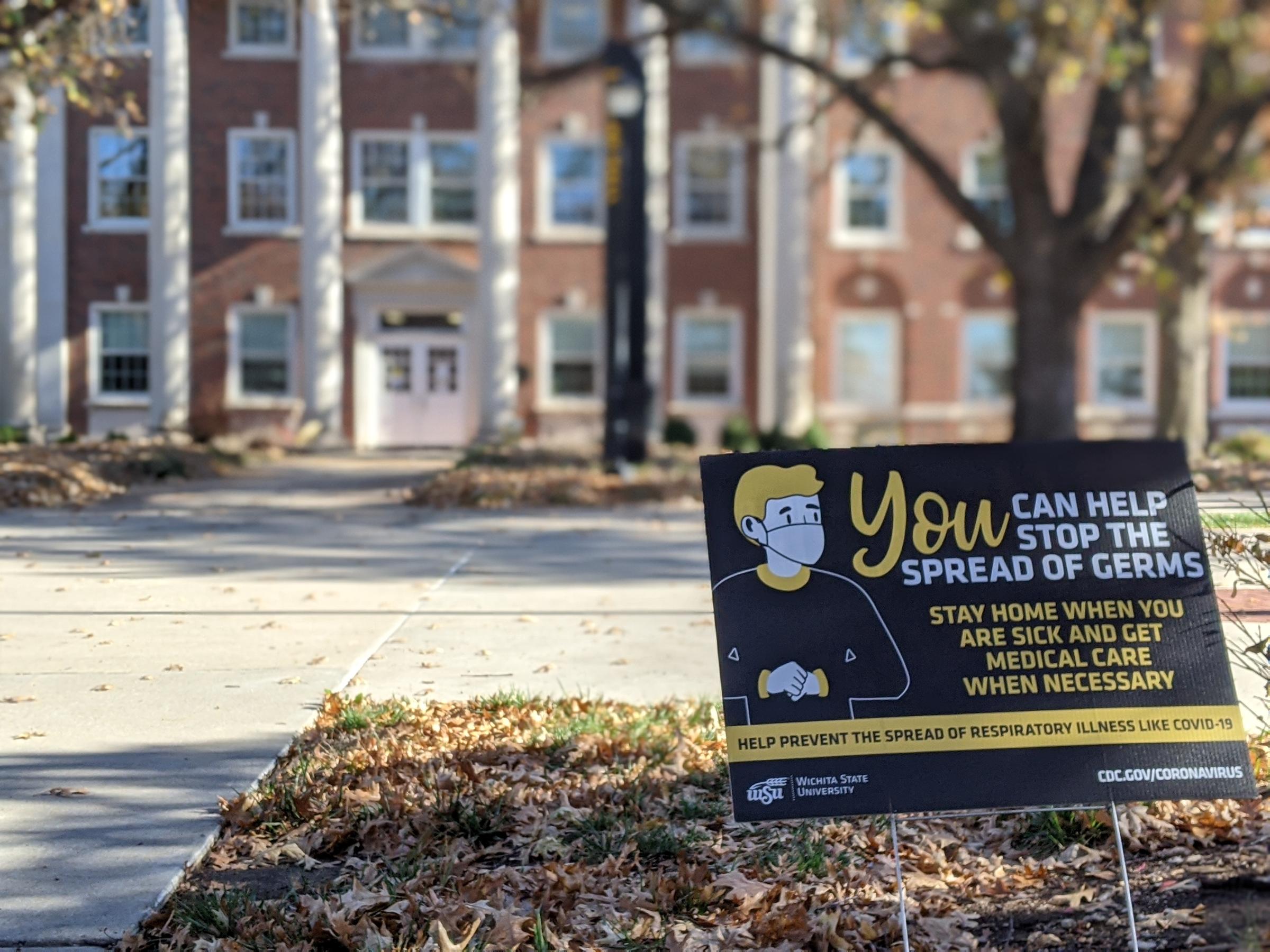 Kansas – College life at public universities in Kansas had one defining trait last semester: Isolation.
Yes, students returned to campus after the pandemic sent them home early last spring. But many classes remained online. Even in-person classes had desks spread six feet apart. Couches in student unions were literally taped off to keep students apart. Packed football stands and crowded college parties went from college staples to taboo.
With that gloomy, lonely fall semester in the books, four students reflect on how the distance has defined campuses through the pandemic.
The interviews have been edited for length and clarity.
Tony Ibarra, Fifth-year Senior at Wichita State University and a member of a Latino-based fraternity
"Greek Life is so social. It's very intertwined amongst chapters and amongst people within chapters. And there's all these sorts of social activities and initiatives and programs and what not.
"And this year it's like nothing. It's like the ocean dried up.
"People aren't really enthusiastic about it anymore. Being in fraternity life is just completely different.
"It's sort of the same thing about the education, the quality of education — not getting the same quality of social life anymore with this pandemic. …
"Seeing those videos of Greek Life across the country where students are ignoring the (Centers for Disease Control and Prevention) guidelines and gathering in mass and having all these parties. … It's very infuriating for the rest of us because  we know that we're criticized at a more microscopic level than other certain aspects of society just because we've already been in the spotlight beforehand. And so it takes one little small mistake to tear the foundation for the rest of Greek Life."
Elaina Hartman, Emporia State University, Freshman Basketball Player
"It's weird as a freshman because usually this is the year that you meet a bunch of new people. I've met the (women's basketball) team and maybe four other new people. …
"It's not necessarily a disappointment because I still have the team and all of them. It's just odd because you see some of the girls on the team have friends outside of it and when you go back from practice to your dorm it's usually just me and the other two freshmen so we don't talk to anybody else. It's just the same people, which comes in handy, though, when Coach says keep your circle small. …
"Sports, if you're an athlete, they take this coronavirus serious because if you don't then you can get shut down. Like, for instance, I'm in quarantine again for the second time. … Even if there were parties, we don't really attend anything or go out much. We just try to stay with our group of girls."
Kyle Carr, Junior At Pittsburg State University, President-elect Black Student Association
"The biggest issue was attendance. Not a lot of people were attending events. And that's for all organizations in general. Because when I would experience going to other people's organization's events — I went to just see for myself and check it out. Is it just us? Or are they experiencing this too? And they are experiencing this.
"A lot of people don't want to do things through virtual cause we're all tired of Zoom. And doing things in person — I think a lot of people don't want to leave the house.
"I'm not quite sure if that's it because I haven't really been told. But some people just don't want to go out and deal with having to wear masks or getting — I don't want to say yelled at, but just getting scolded for not wearing their masks or doing something wrong cause not everyone wants to follow those rules."
Carly Rodaway, Freshman at Fort Hays State University, Freshman Volleyball Player
"It was a week or two before we went to Hays, before we reported. And we got on a whole Zoom call with the whole volleyball team and our coach had told us our season was canceled.
"And it was very emotional for everyone. And I think, as a freshman, I didn't really grasp what it meant that our season was canceled. … People were crying on our Zoom call. And it didn't really hit me.
"At first, I struggled with being inside my dorm room and doing my classes there. But, eventually, I took it outside my dorm room. I went to coffee shops to do my homework or the union to do my homework because I couldn't stay in my room so much. But any class I could go to in-person I made sure to go to that. …
"I did struggle with the motivation aspect. But I think getting outside of my room, getting outside fresh air and really dialing in on my classes because I had an opportunity with our season being canceled to really focus in on school — because usually I have to balance volleyball and volleyball games and school and now just with practice and weights I could really dial in on my first semester of college work."