Kansas football keeping Emmett Jones is a smart move for Coach Leipold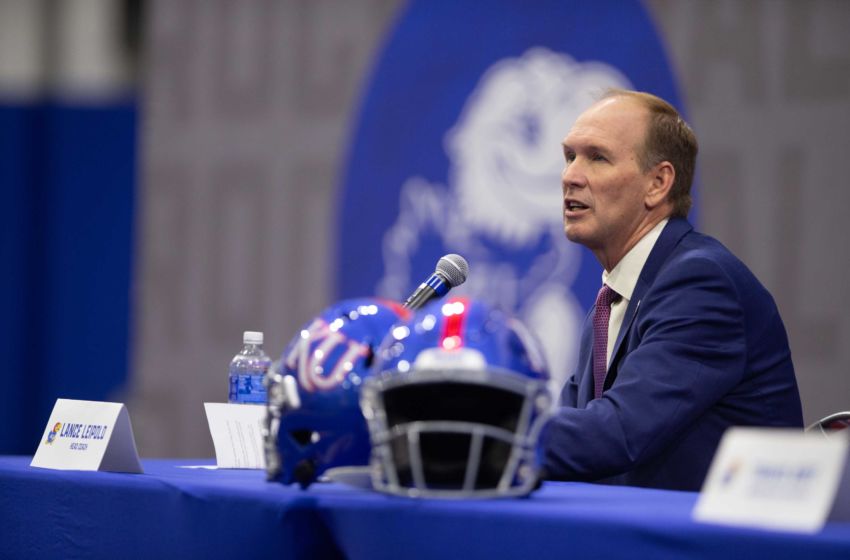 TOPEKA, Kan. – Kansas football will undergo plenty of changes as it enters the Leipold era, however, keeping interim head coach Emmett Jones on staff presents its own set of advantages.
Following former head coach Les Miles' departure, Jones received the interim title. Along with it, he inherited some spring challenges.
Despite the tough spot, the Jayhawks found themselves in, spring production has been considerably positive so far. The new obstacle will be sustaining talent here in Lawrence.
Since Leipold's hire, defensive tackle Da'Jon Terry and defensive back Valerian Agbaw Jr. have announced their transfers away from the Kansas program.
Hopefully, keeping Jones on staff will maintain the motivations from our current roster.
Kansas has quite a bit of young talent and Jones has done an excellent job keeping attitudes high so far. It will be the transition into Coach Leipold's staff that will determine whether or not he'll develop a strong relationship with the Jayhawks' new head coach.
Working with what we've got
Making the switch to the new staff, Kansas will be seeing some moves on both sides of the ball.
More importantly, Leipold has stated that one of his most important goals is to win with who we have here right now. This isn't impossible, but he'll be needing all the help he can get.
The final list of names moving from Lance's former Buffalo staff remains to be determined, however, it will likely bring something new to the playbook.
A large portion of Kansas' roster is young, which could be just what Leipold's new staff needs to kick things off on the right note.
Adapting to a new coaching style can be tough, however, Jones could play a strong role in this.
Spring practices have given Emmett a chance to build some strong relationships on this team, which is fundamental when getting players to buy in and stay committed.
Considering the returning roster is fairly similar, this could allow the Jayhawks to take their experience from Miles' tenure and apply it to a more productive approach under Leipold.
Having Jones on staff will help our roster jump into Leipold's coaching with a familiar face, which is extremely important considering the ongoing effort to curb transfers.
Finding a steady course
If Kansas is going to win again, it's going to start with getting on board Leipold. Regardless of what the head coaching search could've been, Kansas Athletic Director Travis Goff is putting his faith in Lance.
So far, it seems things are off to a good start. Getting acquainted with his new team, it appears some of Leipold's charisma has rubbed off on returning junior cornerback Kenny Logan Jr.
If initial impressions have been well received, this could be a positive sign of what's to come on the Jayhawks staff.
With the expected departures of defensive coordinator DJ Eliot and offensive coordinator Mike DeBord, some new blood is bound to shake things up in Lawrence.
Around seven members of Leipold's former Buffalo staff are reportedly joining the new KU staff.
Integrating the new staff should take place soon, which will give us more to look at before the upcoming season. This transition will be especially interesting, as Kansas' home opener sits just three months away.