New alternative health care business opens in Topeka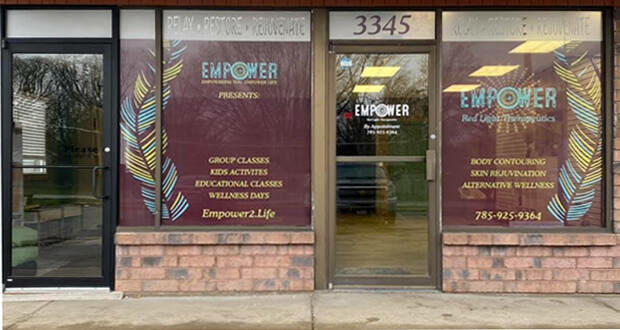 TOPEKA, Kan. – A local Topeka woman has opened a new health care business in southwest Topeka. Danyle Harvey, a veteran, is the owner and visionary for Empower Life, a one-stop-shop network for health and wellness.
The business, located at 3345 SW Gage Blvd, will focus on bringing together a full realm of alternative health care and wellness services. Services included are Red Light Therapeutics, Body Sculpting, Skin Rejuvenation, Fitness, Yoga, Classes, Personal Training, Massage and more.
Empower Life is exactly what it sounds like," Harvey said. "Empowering you to live the life you envision for yourself and knowing you are not alone in the process!"
Harvey will host a Grand Opening at her new business on Friday, April 9, from 12:00 PM to 4:00 PM. Essential Henna will be providing free henna at the grand opening.
Empower Life is open 8:00 AM to 5:00 PM on Monday and Wednesday, 8:00 AM to 7:00 PM on Tuesday and Thursday, 8:00 AM to 4:00 PM Friday, 10:00 AM to 2:00 PM Saturday, and 12:00 PM to 4:00 PM on Sunday.