Spartan softball crushes Highland Park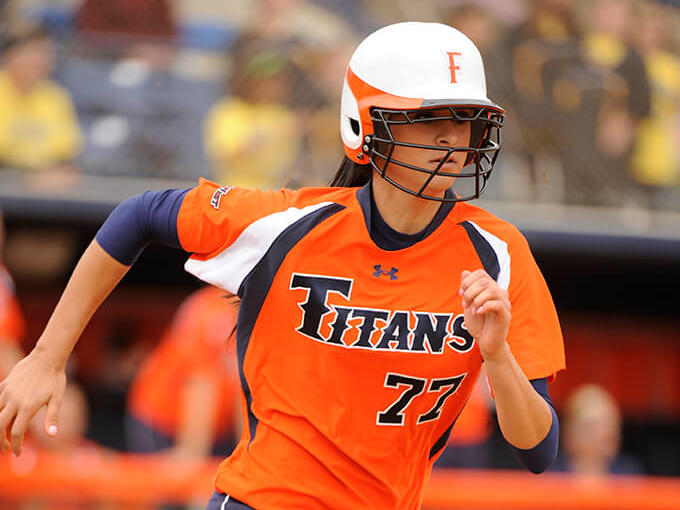 TOPEKA, Kan. – The Emporia softball team began its 2021 season with a statement, combining to outscore Highland Park 43-0 in a doubleheader in Topeka Friday afternoon.
Game 1: Emporia 23, Highland Park 0
The Spartans scored 15 runs in the top of the first inning on 10 walks, three hit batters and five hits, including a two-run home run off the bat of Maddyn Stewart.
Gracie Gilpin struck out seven of the nine batters she faced and pitched a perfect game in three innings, as the contest was shortened to three innings via run-rule.
Every Spartan in the lineup scored at least one run and every Spartan registered a hit except for Elleana Bennett, who was officially 0-for-0 with three walks. In total, Emporia picked up 11 hits and 13 walks.
Kaylee Reimer and Rylea Harris led the team with four RBIs apiece, although RBIs were generously distributed among all but two Emporia batters.
Game 2: Emporia 20, Highland Park 0
Emporia continued its offensive barrage with another 15 runs in the first inning of game two.
Gilpin, the leadoff hitter, got the scoring started all by herself with an inside the park home run on the fourth pitch of the game.
Rylea Harris filled the pitcher's circle for Emporia and pitched a no-hitter in her three innings, striking out eight and walking one.
Gilpin, Stewart, Reimer, Bennett Kaylee Thomas, Adriana Cruz-Hernandez, Shaylee Ginter and Addison Krimer combined to hit 1.000 for the game.
The Spartans are now 2-0 and will play at Junction City on Tuesday. They will open their home schedule against Hayden on Friday.