Success follows Northwest track and field to first away meet of season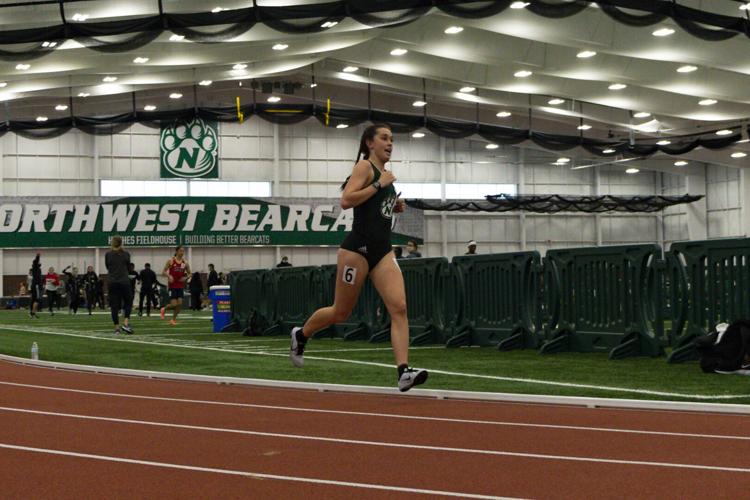 TOPEKA, Kan. – Success followed the Northwest track team to Topeka, Kansas, last weekend, with more records set and athletes meeting national marks.
The Ichabod Invitational Feb. 13 marked the first time the Bearcats went on the road this season for a track meet. Their first four were all in the Carl and Cheryl Hughes Fieldhouse. The change of location didn't matter to athletes, as they carried the success they had at home to Washburn's new facility.
Two Northwest records were rewritten, and four athletes met Division II provisional marks in their respective areas.
Sophomore Delanie Dykes broke the women's one-mile run record with a time of 4 minutes, 55 seconds and 71 milliseconds, which was good enough to provisionally qualify. If it weren't for Dykes' performance, junior Caroline Cunningham would've broken the record herself, finishing with a time of 4:58.81. The mile would've been broken either way, but now the duo holds the two highest spots in the program's record book for the one-mile run, a record that had previously stood since 2009.
"The mile record has been a goal of mine since I found out that I would be running the mile, so it feels amazing to see the work I have put in to get there pay off." Dykes said. "It is also a boost of confidence that I am fit and ready to perform going into the peak of the indoor season."
Sophomore Reece Smith has reset the men's 3000-meter run record three times this season, most recently at the Ichabod Invitational. He had a time of 8:10.65.
"In running, once you run some time, you immediately look forward to running something faster in the future, and that's how I've felt since I first broke the record," Smith said. "Coming into the season I had big goals and running a time like 8:10 was included on that list."
In addition to breaking records, three other athletes aside from Dykes provisionally qualified. Sophomore Jada Shanklin hit national marks in women's high jump with a jump of 5 feet and 6 inches. Junior Omar Austin had a time of 21.61 in the men's 200-meter dash, which was good enough to meet the Division II provisional time.
Senior Caelon Harkey finished ahead of the Division II provisional time in the men's 60-meter dash 0.03 ahead of the mark with a time of 6.83.
"It was really exciting to hit the Division II provision mark in the 60-meter dash, as that is something that I have not been able to accomplish during my career until this weekend," Harkey said.
Shanklin said she felt like her time to hit big marks was coming soon. She said her previous meets weren't bad, but she kept feeling like she could do better.
"I've had challenges this year with staying technically sound with my jump," Shanklin said. "I was very proud of myself for the focus and determination I had to win this meet."
Shanklin said she was able to compete with girls who were leading the nation, while acknowledging her technique and its progress through the meets.
"I feel great that I was able to hit a mark that puts me tied for No. 6 in the nation," Shanklin said. "But going forward, I must stay consistent with my jump and really focus on jumping technically because I know if I do that I will be No. 1."
Despite being the first time they hit the road for a track meet, the athletes said they didn't lose their focus.
"Even though I had a lot of muscle sores and tightness, I wasn't nervous at all about this meet," Shanklin said. "I knew what I had to do and what was expected of me, and I knew that my pop was there and that I've prepared to compete."
Shanklin said she was happy to get an away meet, especially one that's at the same track that the MIAA Championships will be held at Feb. 27-28.
"It was needed to stay in the competitive mindset, instead of just getting accustomed to Hughes," Dykes said.
"Being at home is nice, but it is also good to get out and compete at different places," Smith said.