When this small Kansas town wanted to see their neighbors, they brought their cattle to Main Street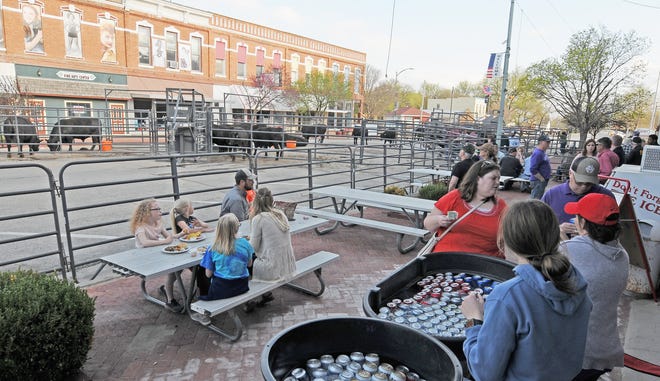 Kansas — Hometown pride isn't penned up in rural communities, but the bulls on main street sure are.
Nearly 100 people packed into the Smoky Valley Distillery in Marquette on Tuesday night to participate in one of the most unusual bull sales many had seen in their lives.
Ryan Barta, owner of Barta Farms LLC in Little River, asked the Marquette City Council in late March if he could hold his "Angus Comes to Town" sale downtown, to which they responded positively.
"I think there's been a lot of excitement," Barta said. "This is something that's not normally done; it's normally in a building or on a farm site. Cattle on 'Main Street' is not a norm, especially in today's world."
The bulls themselves waited in a portable corral in the middle of Washington Street — Marquette's downtown center — while the community gathered for a dinner and socializing before the auction kicked off.
Building community
Tuesday night's event was the first in the city in over several months, which Barta was happy to bring back.
"With COVID and everything else, we've tried thinking of, 'What can we do to get a community event again?'" he said.
Barta added that it was nice to have businesses downtown such as the Smoky Valley Distillery support his efforts.
Michele Von Strohe, who owns the distillery with her husband and son, is one of many residents who have the goal of keeping towns like Marquette alive and thriving.
"One of our main things about the distillery here is to try to bring more community spirit to the downtown area," Von Strohe said. "When they approached us to have a bull sale here, we were just excited to bring something for the community to get together."