Airport piano player gets $60,000 in tips just hours after stranger makes social media appeal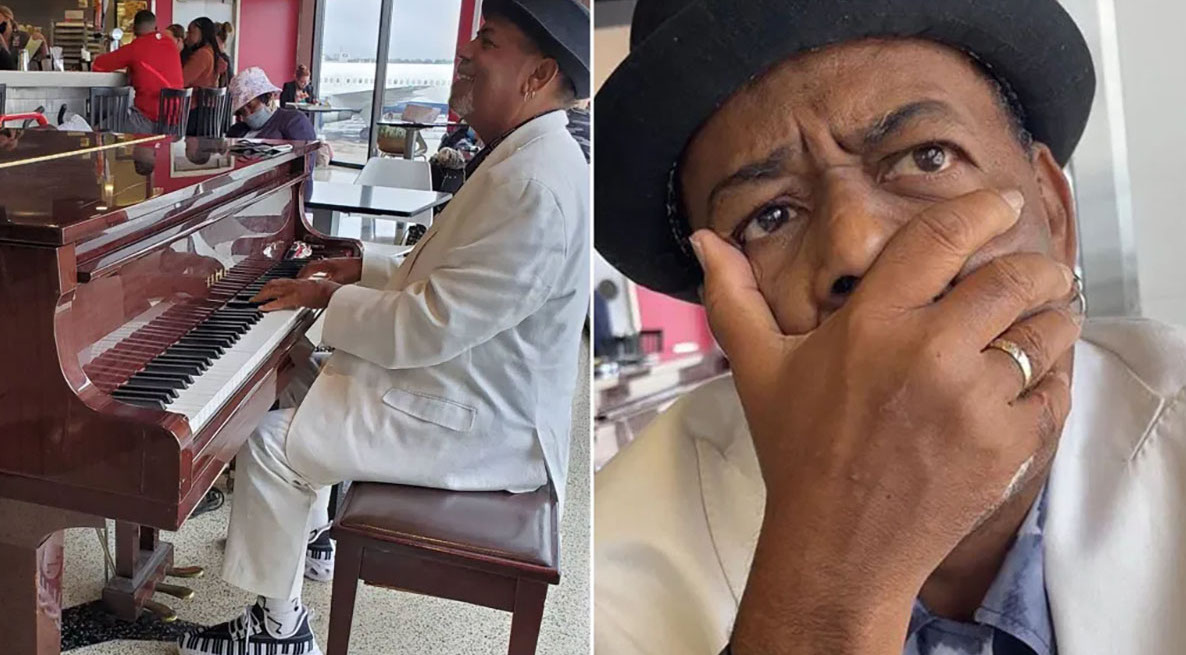 Musicians that play in public for tips are used to people rushing past them too busy to stop and appreciate their talent. But one traveler on his way home to Nashville decided to stop and talk to an airport pianist; he was so inspired by him he then set up a fundraiser that has changed his life. Tonee "Valentine" Carter was performing at a piano bar at Hartsfield-Jackson Atlanta International Airport on July 21 when he spotted Carlos Whittaker "playing his heart out" in a bar.
He stopped to listen and the two got talking. Whittaker who is a motivational speaker, podcaster, and author learned that the 66-year-old piano player had kidney disease and spent 9 hours on dialysis every evening before coming to the airport to play for 4 hours. As a former musician Whittaker knows how hard it is to play in front of people so he decided to appeal to his 220,000 Instagram followers to support the hardworking musician and send him a tip. "I just wanted to let him know that I was listening to him and that somebody sees him," Carlos Whittaker said.
Within hours, the 47-year-old's appeal had raised over $60,000 in tips for Carter, leaving the airport musician blown away. "He asked me if I had any hope in humanity, and I said no, [but] I do now," Carter said. "When people do things like that, total strangers and they hear my story and they want to give me a gift like that. Thankful is inadequate. I want to give back and help people like he's doing." Whittaker, who was on his way home from Memphis when he met Carter, said the Atlanta piano player caught his attention, even if others weren't listening.
"My speaking event in Memphis got canceled so I had to reroute back home, which is why I ended up being in Atlanta for like an hour-and-a-half," Whittaker said. "I used to be a musician. I was the opening band for a bunch of bands and nobody ever paid attention to me. So when I saw that nobody was really listening to him, my heart was like, 'Ah, I get it.'" Whittaker recorded the musician's reaction when he told him how much his appeal had raised. "I didn't believe it," Carter said. "But it was real." Carter was diagnosed with kidney disease in 2008 which forced him to stop working as a pianist on cruise ships. The same year he got a call from the airport asking him for a gig.
"I went out to play for an hour but I ended up playing for three hours because I was having too much fun," he said. "Thirteen years later, I'm still here." With the money, Carter said he plans on getting an oil change for his car and then donating the rest to make quarterly donations to the American Kidney Foundation. Carter not only gained the kind of cash he could previously only dream about he also formed a bond with the motivational speaker. "We're not friends, we're family now," Carter added. Whittaker said of the hardworking musician: "I'd love to see his talent used for even bigger reasons. He's literally the kindest human."