COVID-19 precautions key to tackling stalled Kansas legislative agenda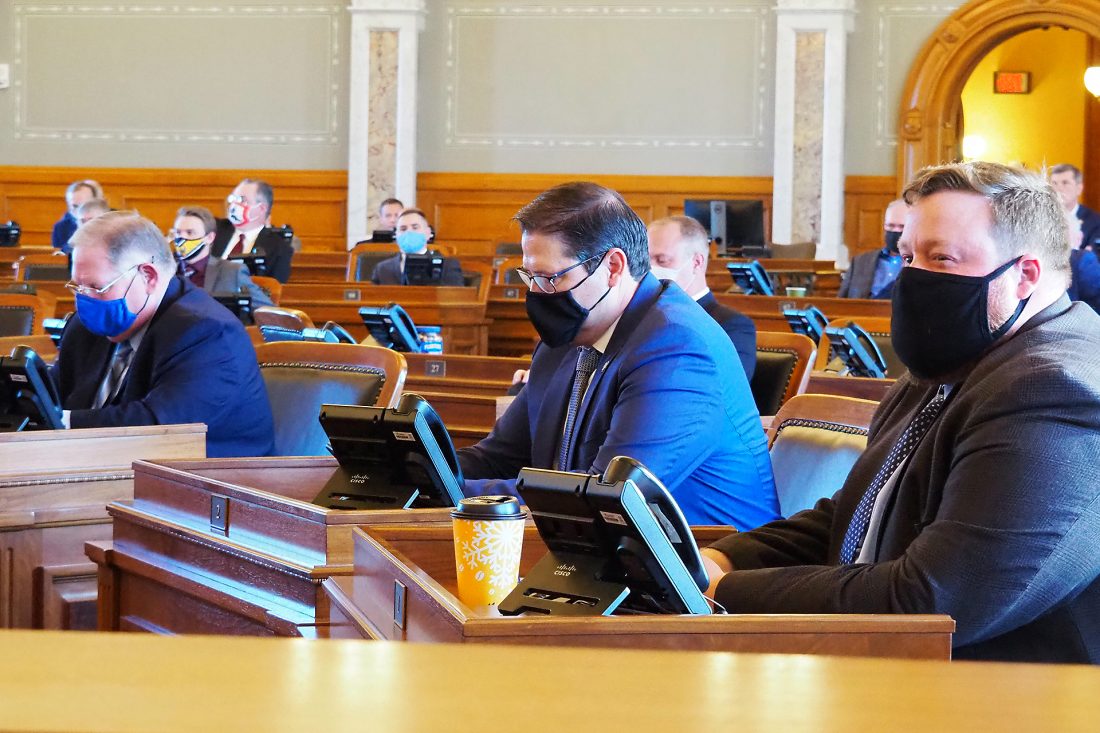 TOPEKA, Kan. — House Speaker Ron Ryckman praised technology upgrades and public health guidance Wednesday designed to deter spread of COVID-19 among lawmakers that threatens to delay action on abortion, tax and economic recovery measures in the upcoming session.
The 2020 Kansas Legislature was derailed in March as the pandemic took hold, leaving frustrated legislators with a mountain of unresolved bills and no more than a hasty special session in June to close out political business for the year.
Ryckman, the Olathe Republican who leads the Kansas House, said during a bipartisan meeting of the Legislative Coordinating Council that steps were being taken to protect legislators and staff members in time for the launch of the 2021 session on Jan. 11.
"We want the building to be as safe as possible," he said. "We also know that we need to do what we were elected to do, especially during this time of crisis. We need to be able to be in a position to still have the checks and balances in the system."
Ryckman said extra precautions were necessary if lawmakers wanted to work through complexities of advancing to statewide ballots an amendment to the Kansas Constitution rejecting a decision of the Kansas Supreme Court that women have a constitutional right to abortion.
In addition, Ryckman said, the Legislature needed time to consider tax reform vetoed by Gov. Laura Kelly and to give definition to a state economic recovery strategy given business and employment upheaval caused by COVID-19.
The Kansas Department of Health and Environment reported Wednesday the virus has infected 222,000 people and killed 2,741 — a two-day uptick in fatalities of nearly 200.
Kelly plans to deliver the annual State of the State address remotely rather than to a joint session of the Legislature in a packed House chamber with executive, judicial and legislative branch members.
"COVID-19 has altered many of our traditions," she said. "With case numbers continuing to increase and limited hospital capacity, gathering the entire Legislature and the Kansas Supreme Court justices into one chamber would be an unnecessary risk to their health and safety."
In the past nine months, the Democratic governor has faced GOP opposition to executive orders temporarily closing businesses and schools as well as orders ordering or recommending people wear masks and social distance. The Republican-led Legislature previously diminished her executive order authority during the pandemic by lowering requirements to recommendations on wearing of masks and other precautions.
Ryckman, who previously contracted COVID-19, said the House and Senate would strive to comply with an opinion issued by Attorney General Derek Schmidt indicating final action votes on bills or amendments had to be conducted by legislators in-person at a location in Topeka.
Unusual maneuvering is intended to avoid legal challenges to House or Senate decisions based on potential violations of constitutional restrictions on legislative action, Ryckman said.
That will require, at least in the House, repositioning of the 125 representatives on the House floor and into the two galleries to provide a six-foot separation. He also said floor passes for journalists would be "extremely limited if not given at all" to open space for House members. There may be times that less than half of state representatives are on the floor at once, he said.
During the LCC meeting, none of the seven Republicans and Democrats on the council raised the issue of mandating everyone in the Capitol wear a face covering. However, a KU Health System report to the LCC included this recommendation: "Require face coverings throughout in the statehouse unless within a closed-door office alone, including previously infected or vaccinated individuals."
"I didn't make a motion because I didn't think it would pass," said retiring Senate Minority Leader Anthony Hensley, a Topeka Democrat. "Wearing a mask has become a political statement, which it shouldn't."
Many Republican legislators have been hesitant to wear a mask at the Capitol during the pandemic. Incoming Senate President Ty Masterson, who also has had COVID-19, indicated such a requirement would interfere with the personal liberties of the 40 senators.
The Legislature has invested millions of dollars ahead of the 2021 session in upgrading video and audio technology in 13 statehouse committee rooms and in the House and Senate chambers to improve livestreaming to the public. Technology advancements will enable legislators to remotely participate in committee meetings and to limit the amount of time at mass gatherings on the House or Senate floor during debates. In addition, the public should be able to better understand what legislators are saying during livestreamed meetings.
Tom Day, director of Kansas Legislative Services, said officials with the KU Hospital System toured the Capitol and submitted the six-page report of recommendations that touched on wearing of masks, capacity restrictions and close-contact guidance. It's not clear to what degree the statehouse will be open to the public during the session.
"Limit the number of people that are in the building," Day said, "just so we keep everyone safe through the entire session, however long it lasts."
Other considerations noted during the LCC meeting were policy guiding lobbying groups that frequently provide catered meals to legislators, possible suspension of the student page program, presence of a volunteer physician in the Capitol as well as access to coronavirus testing for lawmakers and their employees, Day said. He said cleaning crews at the statehouse would be expanded to deal with sanitizing committee rooms and other spaces in the building.