Governor Kelly urges Kansans to continue conserving energy, issues weather PSA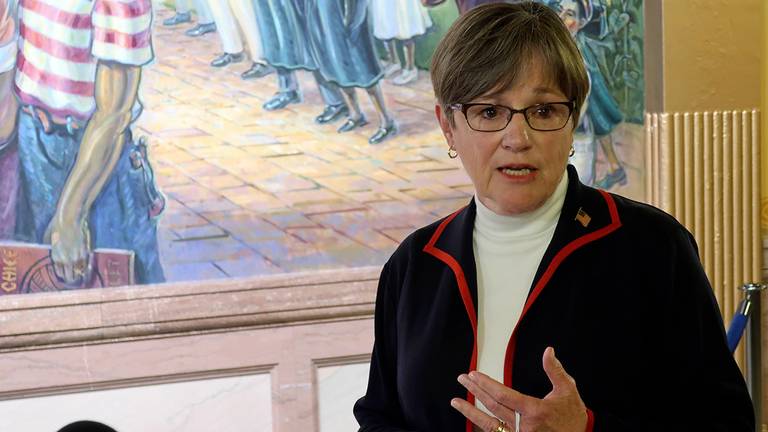 TOPEKA, Kan. – Governor Laura Kelly on Tuesday urged Kansans to continue to conserve energy to help ensure a continued supply of natural gas and electricity in the state. Kelly also answered several questions related to the cold weather and the rolling blackouts.
"Kansans are known for pulling together and taking care of our neighbors," Kelly said. "Conserving energy during these frigid temperatures is necessary to ensure our neighbors have enough electricity to weather this cold spell. We all must come together and do our part to get us through this critical time."
Kelly issued a State of Disaster Emergency on Sunday, Feb. 14, due to the cold weather. The declaration allows the use of state resources and personnel to assist with response and recovery operations in affected counties that reach certain criteria.
The Southwest Power Pool (SPP) is a regional transmission organization that includes Kansas. At he direction of SPP, utilities, like Evergy, are managing available resources using rolling blackouts to periodically reduce the load and conserve energy. The measures are taken to prevent long-term power outages.
Here are some things the governor said Kansans can do to help in the conservation effort and slow down the increases in energy bills due to high usage.
Keep your thermostat at 65-68 degrees Fahrenheit. Bundle up with sweaters in blankets instead of turning up the thermostat.
Seal leaks around doors and windows. Apply weather stripping or caulk to seal gaps and cracks around windows and doors to stop air leaks and prevent energy loss. If that is not an option, you can also cover windows with towels, sheets or plastic to help keep the warm air in your house.
Reduce the temperature on your water heater to 120 degrees Fahrenheit or put it on the "warm" setting. Take shorter showers and only use hot water when necessary.
Close blinds and curtains. This helps keep warm air inside, especially if the sun is not shining.
Change or clean filters. A clean filter on your furnace can lower your energy consumption and efficiency of your equipment.
Hold off on doing chores. Doing laundry and washing dishes can both use natural gas to heat the water and your dryer. If you can, wait until the extreme cold weather passes to complete these activities. If you cannot wait, use the cold setting where possible.
Install foam gaskets on electrical switches and outlets. Electrical switches and outlets can account for up to 10 percent of your home's energy loss.
Unplug unused electronics and turn off lights when not in use.
Don't heat up your oven. Use the microwave, crock pot or toaster oven. A microwave takes 15 minutes to do the same job as one hour in an oven.