Legislators hopeful Kansas will take meaningful step to address missing Indigenous people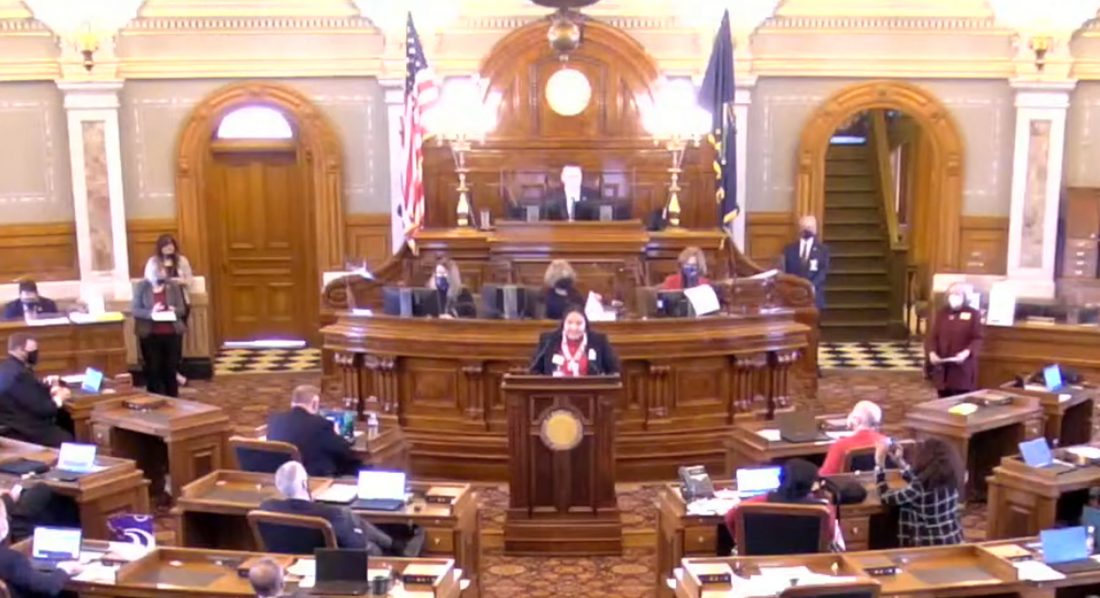 TOPEKA, Kan. — Bernard Francis Mulanax, 40, has not been seen in more than a decade since he went missing in northeast Kansas.
Mulanax failed to appear at a Dec. 26, 2009, doctor's appointment in Manhattan. His roommates speculated he might have traveled to Topeka or an American Indian reservation in South Dakota.
Few details are available in this case.
Mulanax is 6 foot, 230 pounds, and one of three American Indians in Kansas who have been reported missing on the National Missing and Unidentified Persons System.
As of Jan. 7, there are more than 696 missing American Indian or Alaskan Native people on the NamUs registry. A 2020 report using data from the Sovereign Bodies Institute, a nonprofit, Indigenous-led research organization, found that 2,306 American Indian women and girls in the United States have been reported missing within the past 40 years, with 58% resulting in homicide.
The U.S. Department of Justice reports that American Indian women are murdered at rates more than 10 times the national average.
The issue has always been front and center in the minds of Kansas' American Indian legislators. Now, they are working to give it the policymaking attention required of an urgent crisis.
"There are many areas of issue that need to be addressed about missing and murdered Indigenous people, but HB2008 is a great first step," said Rep. Christina Haswood, D-Lawrence. "Providing for the attorney general to coordinate training will bring awareness to our officers who are often the first to respond to missing and murdered Indigenous people's cases."
Haswood made the remarks during debate on the House floor Thursday in support of a bill that would require law enforcement training on the issue of missing and murdered Indigenous people, or MMIP.
"Victims' families can face a patchwork of tribal, state and federal law enforcement agencies," said Rep. Pam Curtis, D-Kansas City, Kansas. "The passage of 2008 will allow Kansas to join other states in attempting to identify the problem and develop policies and training practices to impact this devastating trend."
The bill passed the House for the second time in as many years last week. It now goes to the Senate for review.
Until this year, Rep. Ponka-We Victors, a Wichita Democrat, was the only Indigenous member of the Legislature, so she had to do all the heavy lifting on educating the public about the MMIP crisis.
Victors said this is not a new issue or one that will go away soon.
"It's been a big issue that happened on reservations and in urban areas," Victors said. "It's the issue of our woman and men, missing, and nothing's really been done about it, unfortunately."
The issue has not garnered much policymaking attention in the past. Victors theorized that increasing Indigenous representation is a large part of the reason why legislative bodies across the country are pushing to address this issue at this moment.
"A lot of my colleagues don't know this is a problem, but I know this is a problem. I've always known that," Victors said. "Every time I travel on the highway by myself back to Wichita, I know I could be another statistic of not making it home."
The proposed bill would call for the attorney general to organize training for law enforcement agencies on the issue of missing Indigenous people. The measure would require coordination between American Indian tribes, the Kansas Law Enforcement Training Center and the Kansas Bureau of Investigation, the state's lead agency in missing persons cases.
Victors has pursued additional solutions collaboratively, trading policy ideas with American Indian legislators across the country as vice chairwoman of the National Caucus of Native American State Legislators.
"There are already some states moving forward addressing this issue, so I learned from my colleagues what worked and what didn't work and where could I start," Victors said.
This bill did not advance in the Senate last year but did receive unanimous support in the House. This time around, Victors believes her bill will find its way to Gov. Laura Kelly's desk.
If this bill does become law, Victors said, it is still a long road to fully addressing the missing and murdered Indigenous people crisis.
"We need to have the input of the tribes next. More about what they would like to see done," Victor said. "I believe there is underreporting with the data collection, so I would like to see maybe where the system is flawed. There's just so many ways you can run with this issue."
Victors said if there was one message she wanted Kansans to hear it is to get educated: Read up on the crisis and see how you can help.
"The statistics are alarming, but there are different groups that are helping educate about this issue," Victors said. "I would encourage you to look at your own community and to learn more about this issue."