Moran meets Chief Haulmark, lauds Operation Frontier Justice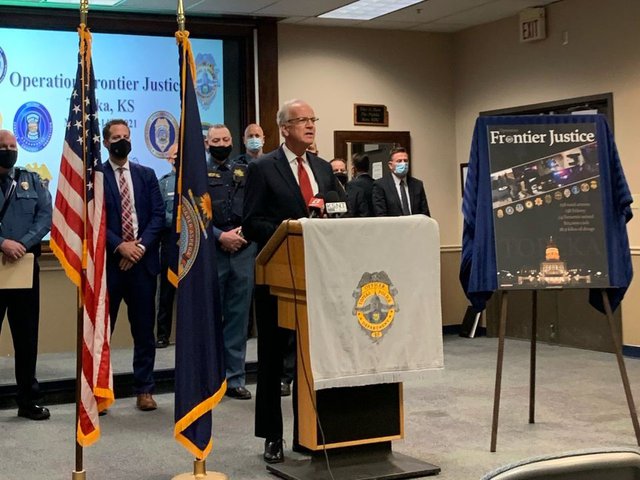 TOPEKA, Kan. – Sen. Jerry Moran (R-Kansas) met three new police chiefs across the state recently as he announced the results of Operation Frontier Justice. In his April 5 newsletter, Moran thanked Great Bend Police Chief Steve Haulmark, Garden City Police Chief Courtney Prewitt and Olathe Police Chief Mike Butaud for taking the time to meet with him to discuss public safety within each of their communities.
"Each individual brings a diverse and important perspective to the communities they serve," Moran stated. "As the lead Republican on the Senate Appropriations Subcommittee that funds the Department of Justice, I have made it my priority to make certain that local police departments across Kansas have the resources they need to protect our communities. I look forward to continuing to meet with law enforcement officers across the state. I thank them for their service to their communities and all they do to keep their fellow Kansans safe."
Moran visited Great Bend on March 30, one day after he was in Topeka for a press conference to discuss Operation Frontier Justice, a multi-agency operation to cut drug violence, that resulted in 258 arrests over 10 days last month in Shawnee County.
Moran, the ranking Republican and former chairman of the U.S. Senate subcommittee that appropriates funds for the Department of Justice, said the committee has traditionally looked for ways to increase cooperation between federal law enforcement and state and local agencies. Operation Frontier Justice was an excellent example of how that can happen, he added.
Although this happened in Shawnee County, crime is a significant issue for most Kansas communities, Moran said.
"This is not just an urban issue. These programs are focused on getting drugs, guns and violent criminals off the streets and the citizens of this community much safer," Moran said.