New coordinator Andy Kotelnicki quickly familiarizing himself with KU's offensive personnel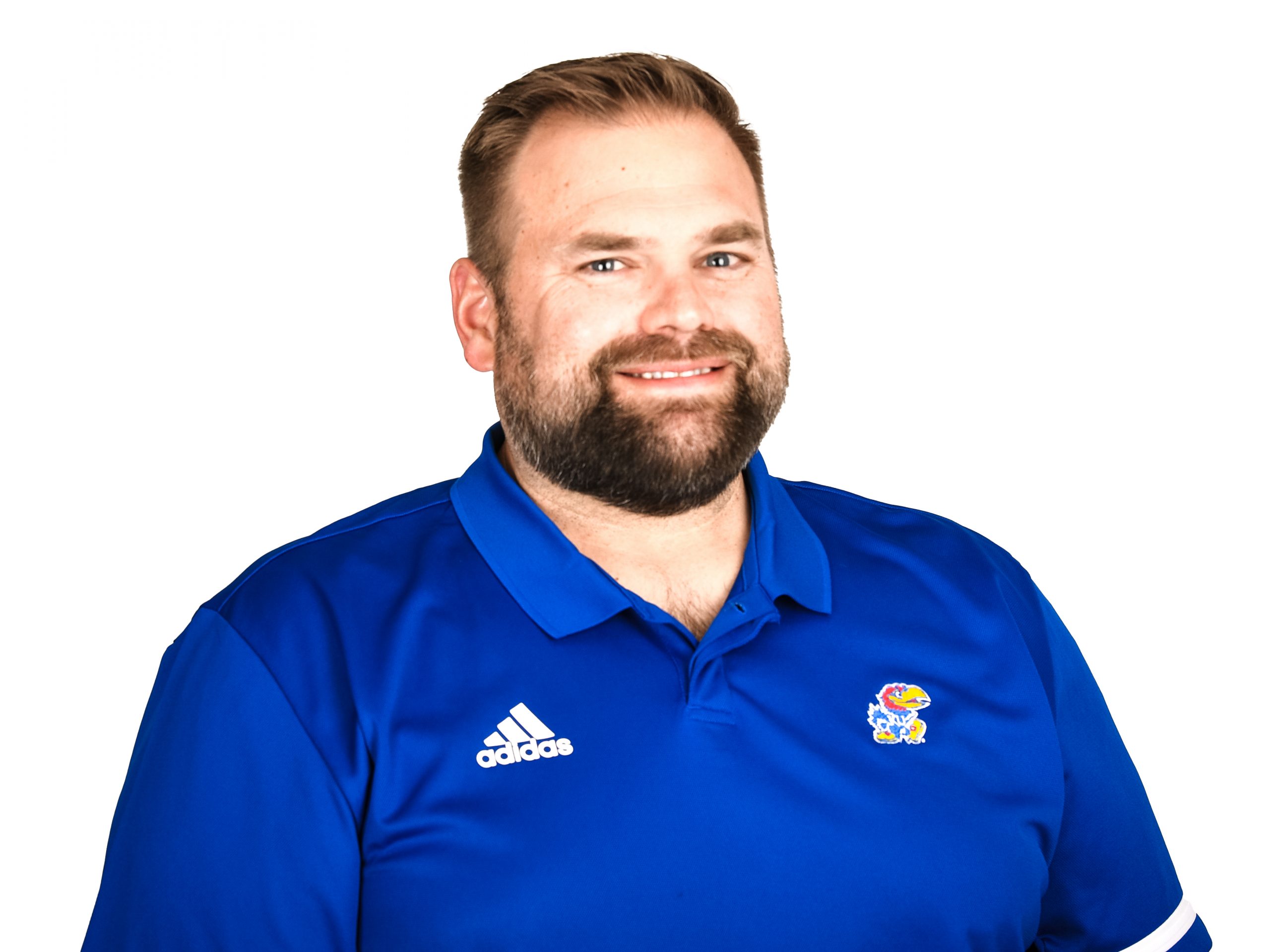 TOPEKA, Kan. – Andy Kotelnicki has only been at the University of Kansas long enough to have "coffee dates" with many of the football players he'll soon be coaching. As the Jayhawks' new offensive coordinator settles in, Kotelnicki plans to make the transition as smooth as possible for everyone involved.
Given the odd timing of Lance Leipold's hire, with the new staff members arriving in Lawrence at the end of the spring semester, Kotelnicki tried to cram in as many one-on-ones with KU's offensive players as he could before they left town.
Even though each player's introduction to the new O.C. would be brief for now, Kotelnicki said he wanted to let every one of them know his first priority was to start making connections with the players.
"That starts with a small coffee date and those interactions," he explained.
It won't be long, though, before their conversations expand to include football and offensive principles.
The players just a few weeks back completed their spring practice schedule before Leipold, the former Buffalo head coach, took over and several of his assistants, including Kotelnicki, followed him to KU. So a critical part of Kotelnicki's transition will include making sure the Jayhawks are familiar with what he wants to do offensively, with preseason camp a couple months away.
In June, when players are back on campus for summer courses and strength and conditioning, the O.C. said there will be some opportunities for coaches to interact with them on a limited basis, per NCAA rules, and give them an introduction to his offense.
"You can't go on the field and throw the ball around and walk-through and stuff like that," he said. "But you can start to give them small doses of what it would look like."
The first step of that process for Kotelnicki, though, involved finding out for himself where KU's returning offensive players are coming from. Leipold has discussed the importance of "blending" his former UB assistants with the returning KU assistants, and Kotelnicki said that was critical for him.
The new O.C. was able to converse with receivers coach Emmett Jones and running backs coach Jonathan Wallace, the two offensive position coaches who were retained, to find out where the offense was at in 2020, what it looked like in the spring, and where it could go from here.
One day this past week, Kotelnicki said, the offensive staff all met together so they could align his offensive terminology with the verbiage KU had used in the past. That way, when the players are back on campus, the coaches can provide those details.
Jones said whenever one of the former UB coaches asks him about some particular aspect of the program or about a specific player, his only goal is to have as an informative response as possible.
Through such questions and conversations, as the third-year KU receivers coach began working with Kotelnicki during the past few weeks, Jones said he quickly found that the Jayhawks' new O.C. has "a natural knack" for the job.
Jones said when he was still a high school coach back in Dallas, whenever college coaches would come visit him in his office, some had an it factor and others, "you could tell they were just making their rounds." Kotelnicki, Jones added, is a coach "who has it."
"I think he's a smart guy. Very detail oriented. I could see why Coach Leipold likes him a lot," Jones said. "I'm a sponge, soaking that stuff up, just trying to make myself as better as possible, being around those guys."
Talking with Jones and Wallace about KU's offensive personnel has helped Kotelnicki familiarize himself with the roster "quite a bit." The O.C. said he appreciated how both of those assistants value teaching the game.
The way Kotelnicki sees it, "great coaches" are "great teachers" and "have a really defined structure."
"And so whatever you think about in your life of a great teacher and what that person had and what they brought to the table for you, that's what we want our staff to look like," he said.
As much as Kotelnicki appreciates Jones and Wallace as teachers and is glad to have them provide background on KU's offense and personnel, the O.C. also said he tries not to ask the returning assistants too much about an individual player's strengths and weaknesses.
"You want every kid to have an opportunity to have a blank slate so to speak. And then we can all evaluate it," Kotelnicki said. "Like (Leipold) said, it's a new program. So you don't want to line up in the fall or start making a bunch of decisions on preconceived notions that a lot of our staff hasn't even had the opportunity to see."
The concept of a fresh start even came up during Kotelnicki's "coffee dates." The newest KU football offensive coordinator said he wanted to tell the players he empathized with their situation, considering the veterans who have been around the program the longest have learned under several coordinators.
Along those lines, Kotelnicki asked players if they were in a relationship with someone or had been previously. And then he asked if those past relationships made them better boyfriends.
"You have a new coaching relationship," was Kotelnicki's point.
"You have an opportunity to grow from all the other ones that you've worked with. Now you go through all these boyfriends and girlfriends to find the one, right, that you can get engaged with and get married," Kotelnicki added. "And I said that's what I hope that we offer you."
Not counting Chip Lindsey, whom Les Miles hired as his first offensive coordinator before Lindsey quickly left to become the head coach at Troy, Kotelnicki is KU's fifth full-time offensive coordinator since 2017. In that span, Doug Meacham, Les Koenning, Brent Dearmon and Mike DeBord (throughout this year's spring practices) each served as O.C. And Meacham was fired in the middle of the 2018 season, leading to then head coach David Beaty and his offensive assistants taking a team approach to the play-calling.