Two competitive City Showdowns on tap with local teams squaring off in baseball, girls soccer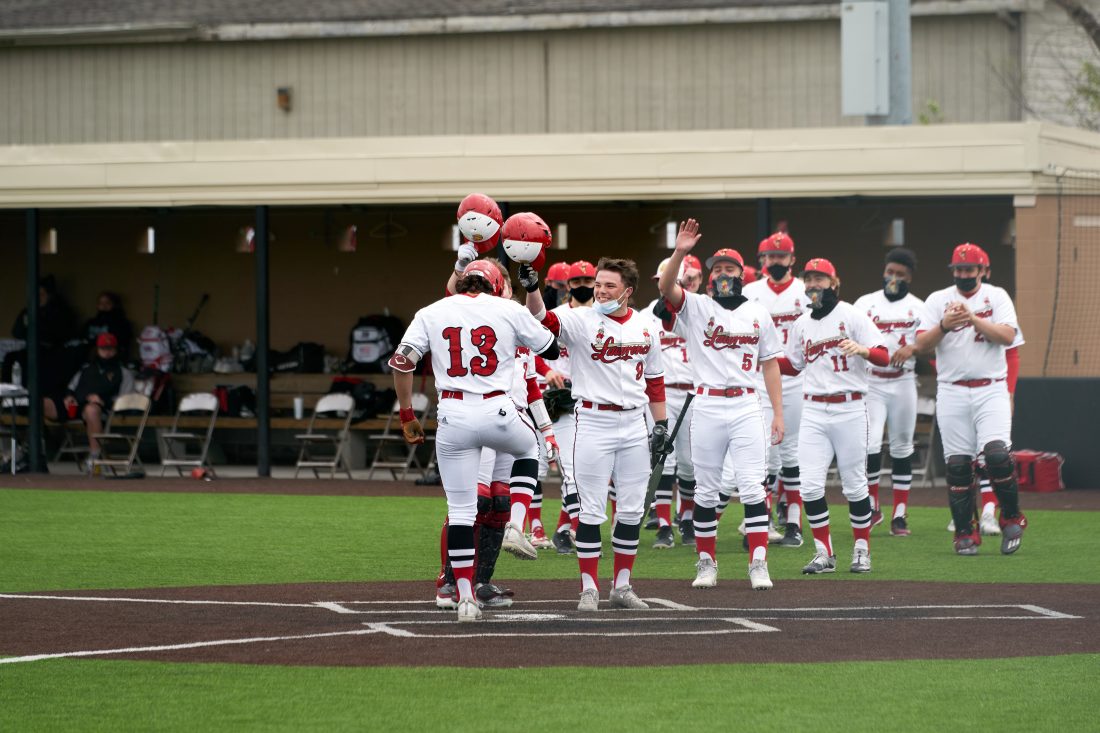 TOPEKA, Kan. – There will be two City Showdowns taking place at the same time Tuesday night in Lawrence.
Free State and Lawrence High will square off in baseball at Hoglund Ballpark at 7 p.m., while girls soccer will begin a little before that when LHS hosts FSHS at 6:30 p.m. Both games figure to be competitive with the programs sharing a lot of similarities with each other.
It is eerie how much the Firebirds and Lions have had in common on the baseball diamond this spring. Both teams have double-digit victories on the year, which includes some growing pains at first before putting together win streaks over the last few weeks.
Lawrence (11-7) enters the regular-season finale having won four in a row, including a 15-0 victory over Mill Valley last Thursday. Free State (10-9) won five consecutive contests before back-to-back losses last week.
"I think both teams are playing better than they were a couple of weeks in. I know we both kind of hit a kind of hit a tough patch," LHS head coach Brad Stoll said. "But all the records can really go out the window because kids just play at a different level in this game. It's pretty unique."
With it being the final game of the regular season, there will be postseason seeding implications on Tuesday for both teams. LHS is the No. 8 seed in the Class 6A East regional, while FSHS comes in as the No. 9 seed in the West regional.
As a result, a win in the crosstown clash could set either program up with a good chance to host the first regional game. It will also just be an important test for both teams before it is win-or-go-home time.
"When you play Lawrence, they are a state-caliber team," FSHS head coach Mike Hill said. "They have the talent and the ability to win the state tournament."
"To be able to go toe-to-toe with them would be a good springboard into the following week for us," Hill added.
FSHS took its lumps to begin the season while trying to get an inexperienced team on the same page. But the Firebirds have been much better as of late, which is a credit to their team effort on the defensive end.
The closest Free State got to reaching its full potential was during its 16-6 victory over Raymore-Peculiar during the final day of the River City Baseball Festival. The Firebirds were firing on offense with 15 hits, while also playing perfect defense with no errors.
"We've come a long way defensively," Hill said. "Some kids are really starting to learn what's necessary to be a good defender. So we were happy with the progress that's been made there."
While it has taken a balanced effort to put it all together, Free State has leaned on senior pitcher Michael Uhler this year. He pitched a complete game last time out, giving up two earned runs on seven hits in a loss to Olathe East.
Uhler, who is getting the start in the rivalry matchup, spun a complete-game shutout in a win over Shawnee Mission South on April 15 as the highlight of his stellar season.
Lawrence, meanwhile, plans to trot out a few different pitchers to help set the staff up for success in the postseason. With Ike Cobb and Grant Cleavinger leading the way, LHS has a lethal combination on the mound.
The Lions have also had a strong defensive team throughout the season. Senior Devin Neal, who is signed to play baseball and football at KU, is covering a lot of ground from his position in centerfield. Senior Carlos Vasquez is one of the better shortstops in the state, while catcher Karson Green has the ability to throw runners out on a regular basis.
Yet the offense has really taken the next step during this recent win streak. LHS has outscored its opponents by a 43-5 margin over the last four outings.
"The approach to the plate is what we are really pleased with," Stoll said. "I think kids are stepping in there with a different mindset. I just think we're having more competitive (and) tough quality at-bats."
Just like with baseball, both soccer squads have had similar seasons so far.
Lawrence is 4-10 on the year, with wins over Topeka High (3-2 victory), Shawnee Mission North (6-0), Pembroke Hill (1-0) and Gardner Edgerton (3-0) entering Tuesday. FSHS is 3-9 after victories over Topeka Hayden (3-2), Gardner Edgerton (2-1) and Topeka High (5-1).
"It's definitely been a down year for us and I think Free State is kind of in the same boat," LHS head coach Matt McCune said. "At the same time, one team could be 10-2 and the other could be 2-10 and you know it's going to be a tough game no matter what."
LHS has dropped five in a row entering this matchup, with four of those losses taking place during a busy week last week. Despite four defeats, the Lions showed signs of growth by changing up personnel and formations to put themselves in the best position entering the playoffs.
Olivia Platt has controlled things from her midfield position this year, while I'yawa Brewer has moved from backfield to the back line recently and the adjustment has paid off. Cree Stewart has been effective in the net as the team's starting goalkeeper.
Avery Kingery has been the team's hardest working, giving the Lions everything she has in each match.
"(A win) would definitely lead us into the right direction heading into the postseason," McCune said. "(It would) give us a little bit of confidence because you know confidence in any kind of sport, especially soccer, is gigantic."
FSHS is also hoping to gain some momentum during the final week of the regular season, which will be a busy one. The Firebirds will play four games in as many days this week, three of which are away from home.
Madi Beeley has been the engine of Free State's attack as the team's midfielder, and her communication has been noticeable to the coaching staff. Captains Ryan Malloy and Victoria Flores have been stellar leaders as well.
Kate Stallard has been the staple of the FSHS defense as the goalkeeper.
"We've progressively gotten better," FSHS head coach Nathan Mangold said. "I would say that our progress has some tangible results if we can grab a couple more wins here this week."
Especially if one of those wins came in a rivalry matchup.
"I know the excitement level is there for the girls," Mangold said. "We've had a good week of practice leading up to it. It's just always fun to compete against kids that your players have known for a long time. We're all ready to go."